20 Creepy but Cute Ideas for Planning a Halloween Baby Shower
Technically, Halloween isn't until October 31st, but most of us start getting in the spirit of this haunted holiday long before that. What do you do when you're planning a baby shower for someone you love right in the middle of fright season? You could put away the cobwebs and jack-o-lanterns for the day and throw a standard party— or you could use this opportunity to throw an adorable Halloween-themed shower!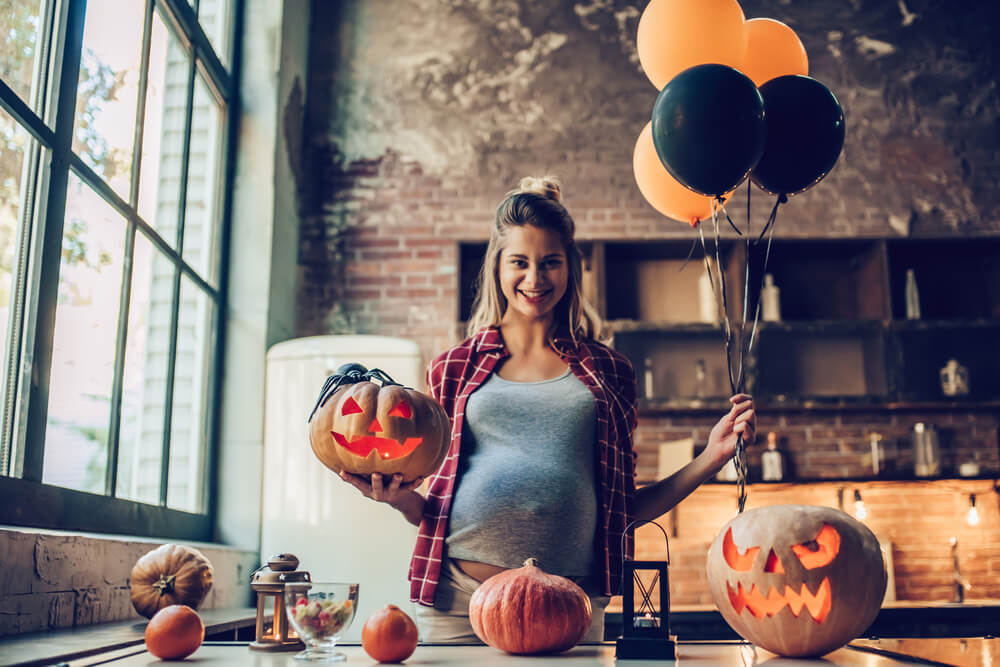 Does it have to be autumn to throw a creepy-cute Halloween baby shower? Of course not! If the expecting parents are huge fans of all things ooky and spooky, you can use this scary-fun party theme any time of the year!
If you need some ideas to help you get started, you've come to the right place. We've gathered some of our favorite tips, tricks, and treats for planning a cute baby shower with a creepy Halloween twist. Keep reading to get inspired!
Pick a Frightfully Fun Party Theme
When hosting a baby shower, it helps to have a theme in mind to plan the food, decor, and games around. Halloween is an excellent starting point, but you should try focusing on a specific aspect of the holiday you think the mom-to-be will love. For example, you could throw a pumpkin party and decorate the house with adorable gourds. You might also consider something spookier, like welcoming a little vampire or monster into the world!
Decorate an Inviting Front Porch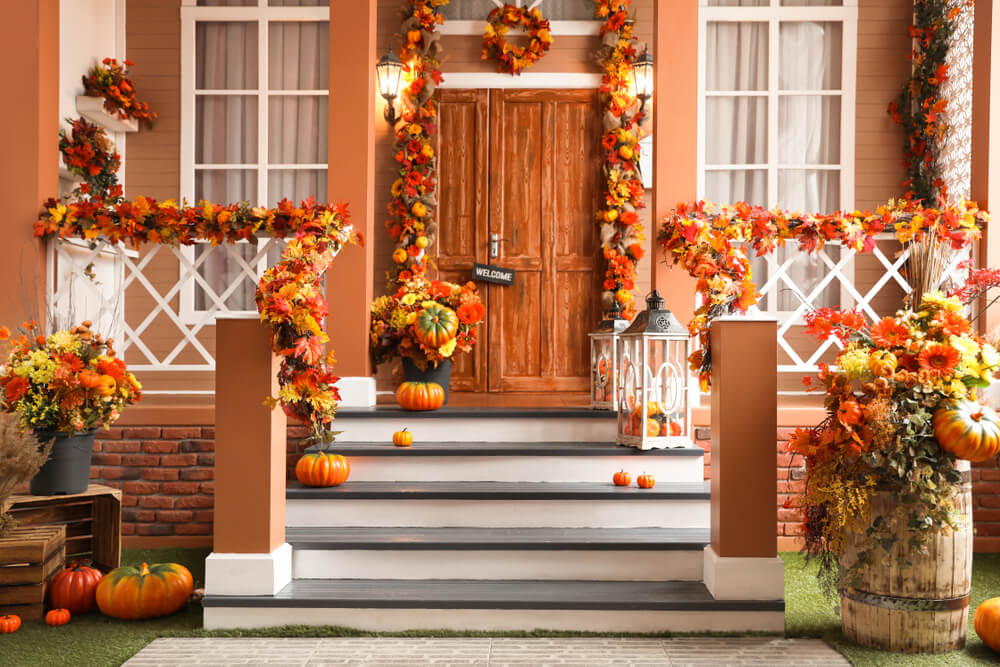 The first thing your guests will see when they arrive is the front door of the event space. Make sure your outdoor decorations match the cute Halloween baby shower inside. Here's an adorable DIY idea that's sure to go with almost any spooky party theme you're working with; plus, it'll make your location easy to find!
Send out Haunting Invitations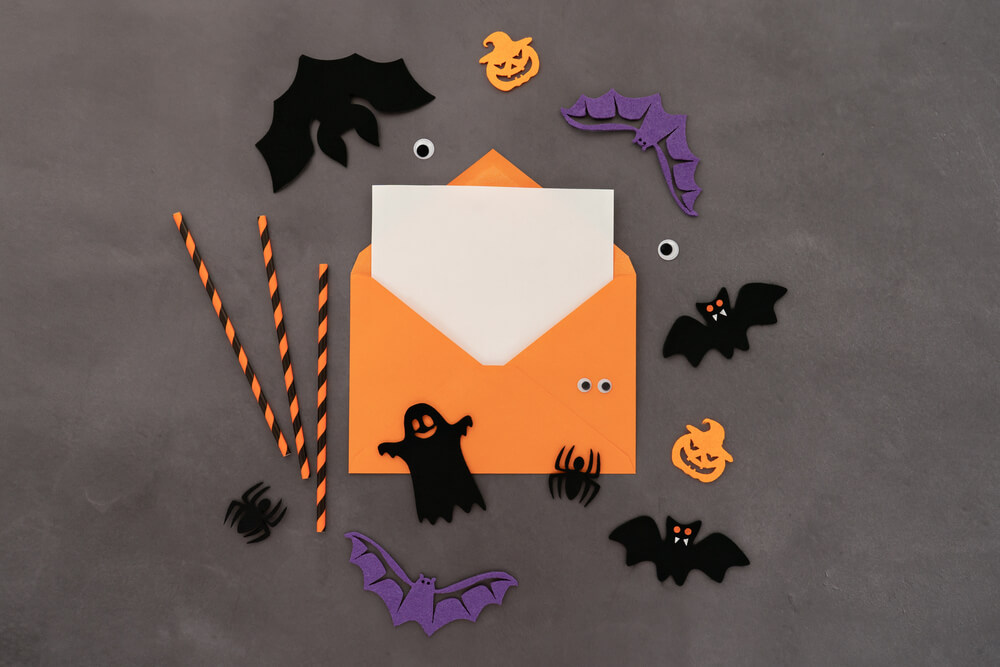 Before you get too far into the party planning process, you'll need to let your guests know when and where this themed event is taking place. Whether you're planning to order personalized cards through a stationery company, DIY your own, or opt for a digital alternative, be sure to choose a design with a little frightening flair!
Encourage Your Guests to Arrive in Costume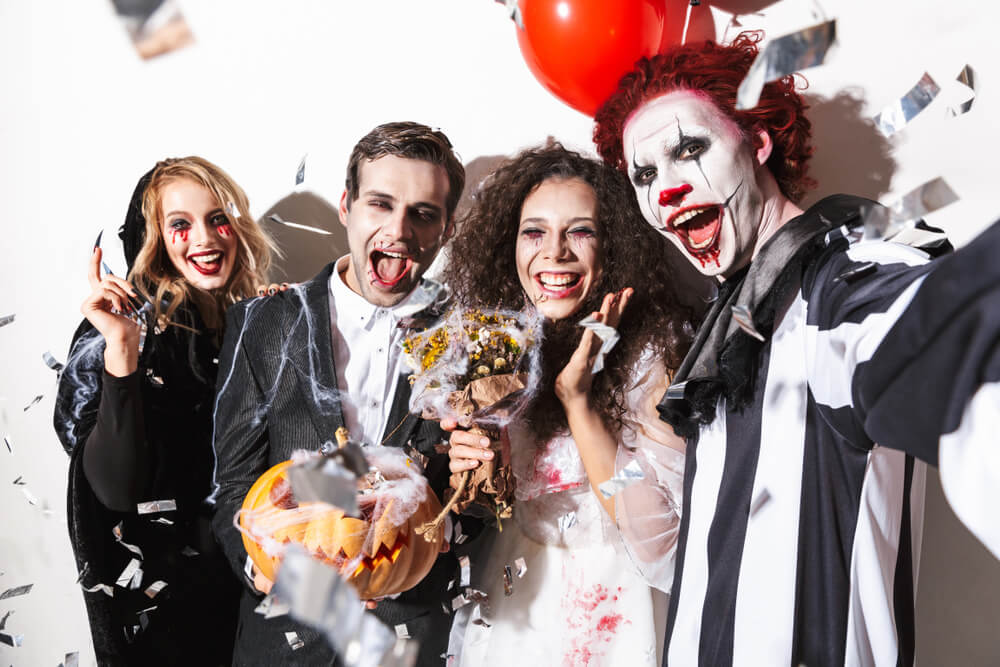 You wouldn't attend a Halloween party without a costume, so why would a Halloween baby shower be any different? Make sure your guests know that cute disguises are not only allowed, but preferred! Depending on the mom-to-be's comfort level, you may want to include some limitations in your invitations. Some parents might be uncomfortable with their friends dressing up in truly gruesome getups!
Turn a Journal into a Spooky Guest Book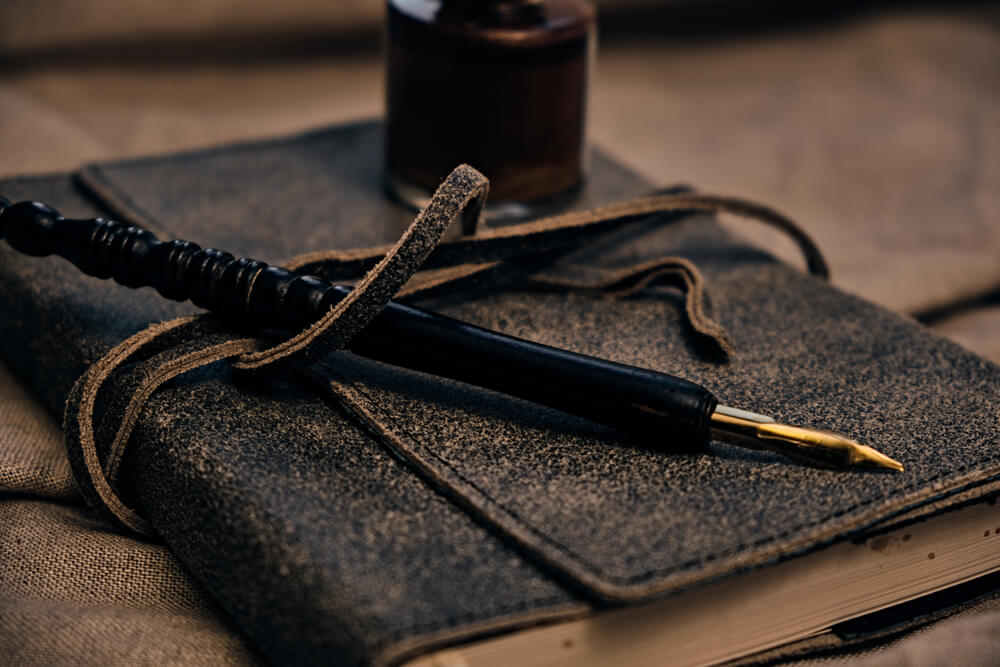 A guest book is essential to any baby shower. Not only is it a sweet memento for the parents-to-be, but it also helps them keep track of who attended the party so they can send out their thank-yous. You can easily make a journal look like an ancient spell book your guests will love signing! Here are some of the best leather-bound notebooks that would be perfect for a Halloween-themed baby shower.
Decorate a Festive Halloween Tree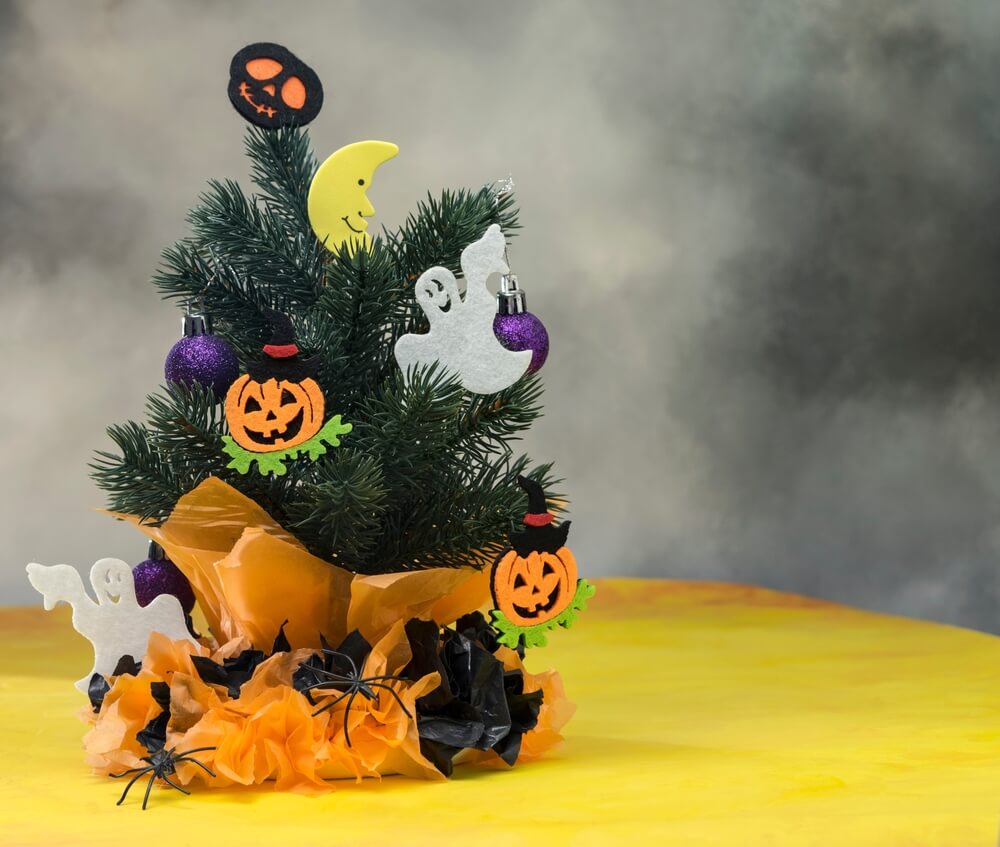 The trick to decorating for a Halloween baby shower is to focus on the cute side of this spooky theme. There's no better way to combine frightening and festive elements than putting up a Halloween tree! Not only will it brighten up the party space, but it's also a creative alternative to a traditional gift table. Get inspired by these scary-fun examples.
Arrange a Spooky yet Classy BOOffet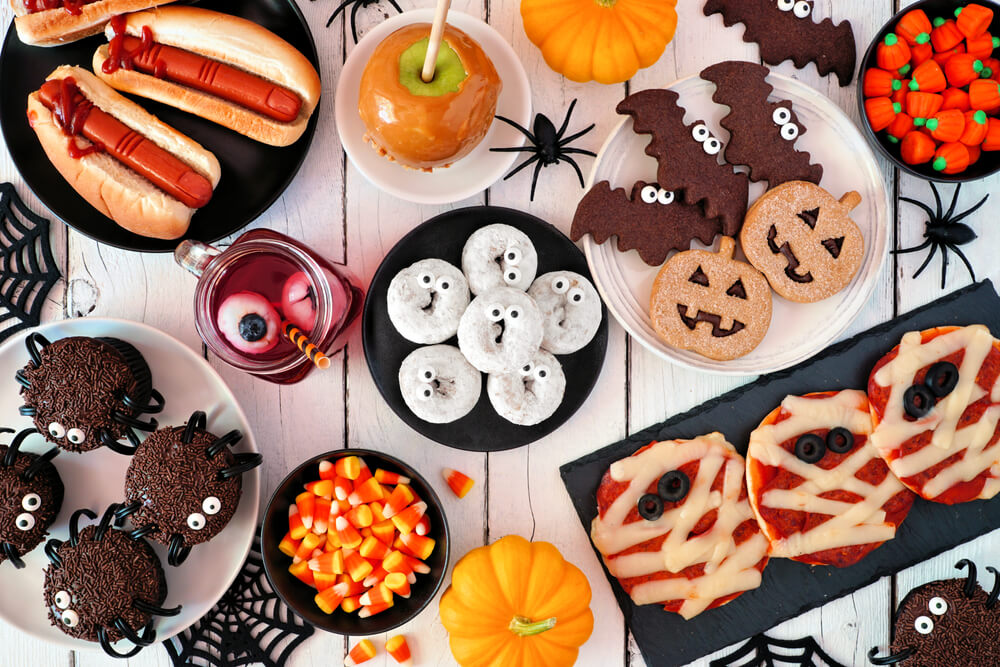 When it comes to baby shower food, presentation is everything. Make sure your buffet table is fit for a fiendish feast by decorating it with spooky centerpieces and serving your snacks on terrifying tableware! Take a look at these cute Halloween home accents perfect for designing a creepy-themed treat bar.
Set Up a Self-Serve Candy Bowl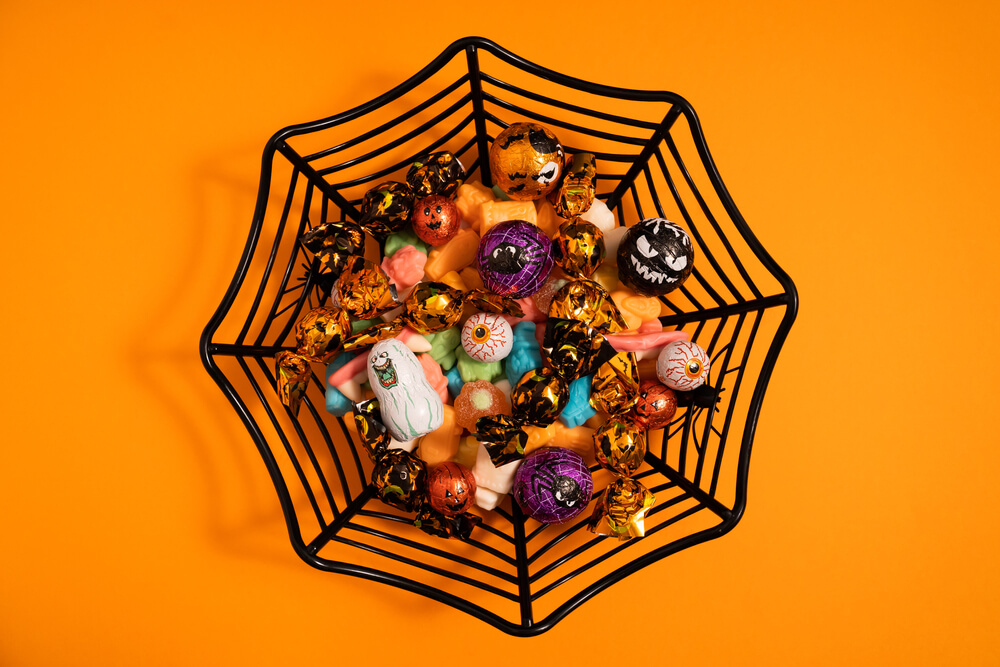 No matter the specific theme of your Halloween baby shower, there's one sweet snack that's sure to please both your guests and the parents-to-be. Place a big bowl of candy on your boo-ffet table and bring back cute memories of trick-or-treating! These are some of the best chocolate bars and other sugary delights to serve at your party.
Serve a Ghoulish Grazing Board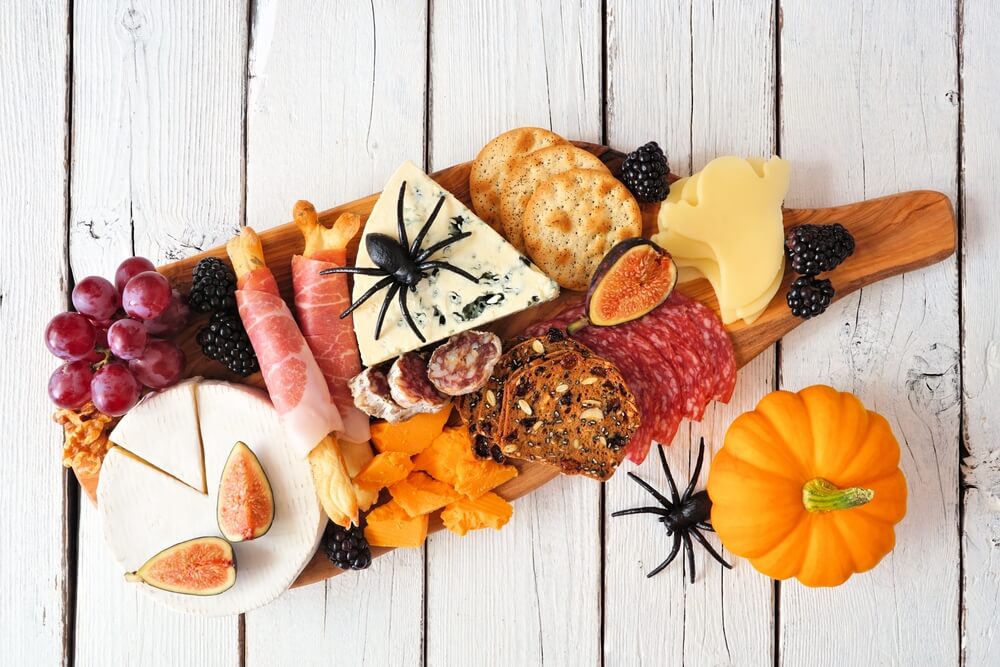 What goes better with a Halloween baby shower than finger food? A cheese board makes an excellent addition to your buffet table. Not only does it encourage guests to serve themselves, but it can easily be customized to fit your spooky theme! You can get some cute ideas from this charcuterie how-to.
Mix Halloween Accents with Rustic Autumn Decor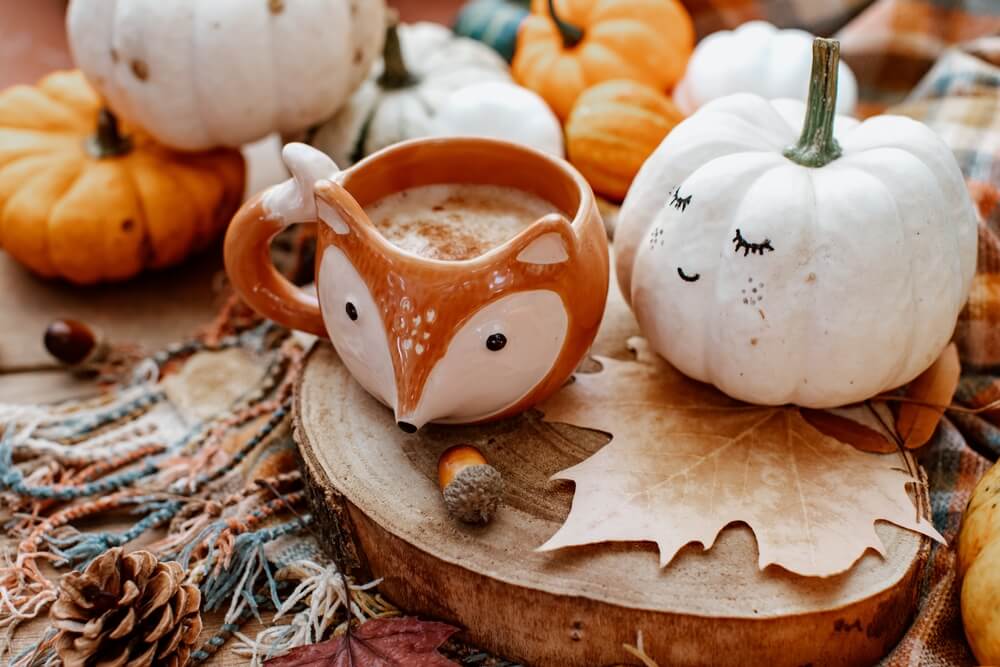 Unless you're throwing a baby shower for hardcore horror fans, you don't necessarily want your party space to look like an actual haunted house. Here's a great way to create a decor scheme that fits your cute Halloween theme. Round out your spooky accents with elements of fall, like the rustic-chic items in this article.
Brighten up the Party Space with Boo Balloons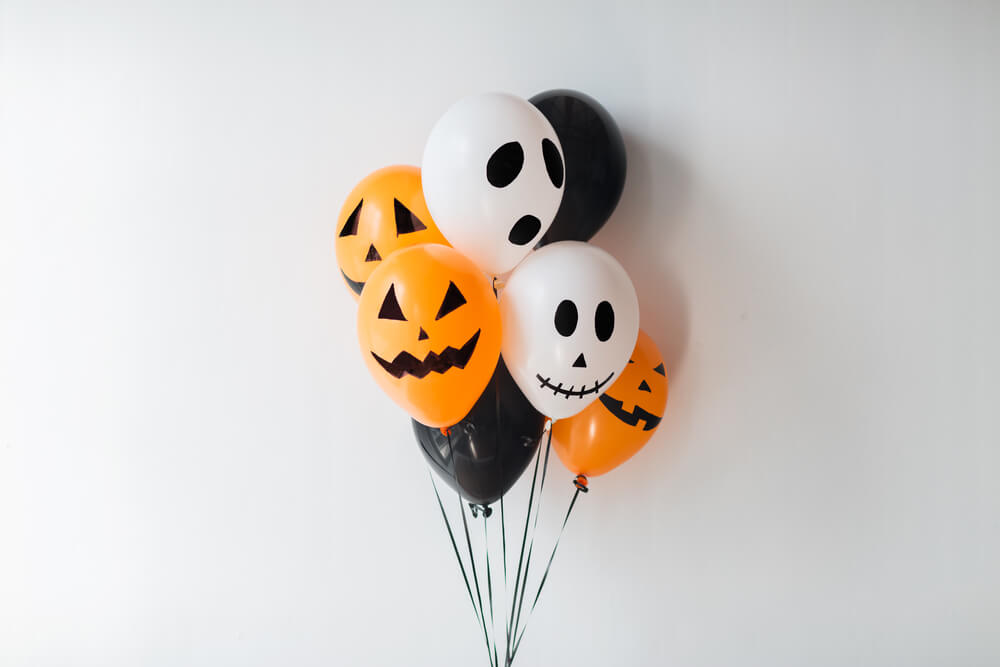 When it comes to baby shower decorations, balloons are a must-have. If you want them to fit your cute Halloween theme, pick spooky colors like black, orange, green, and purple. You can even try drawing adorable jack-o-lantern faces on them with markers for a fiendish touch!
Create an Eerily Elegant Gift Table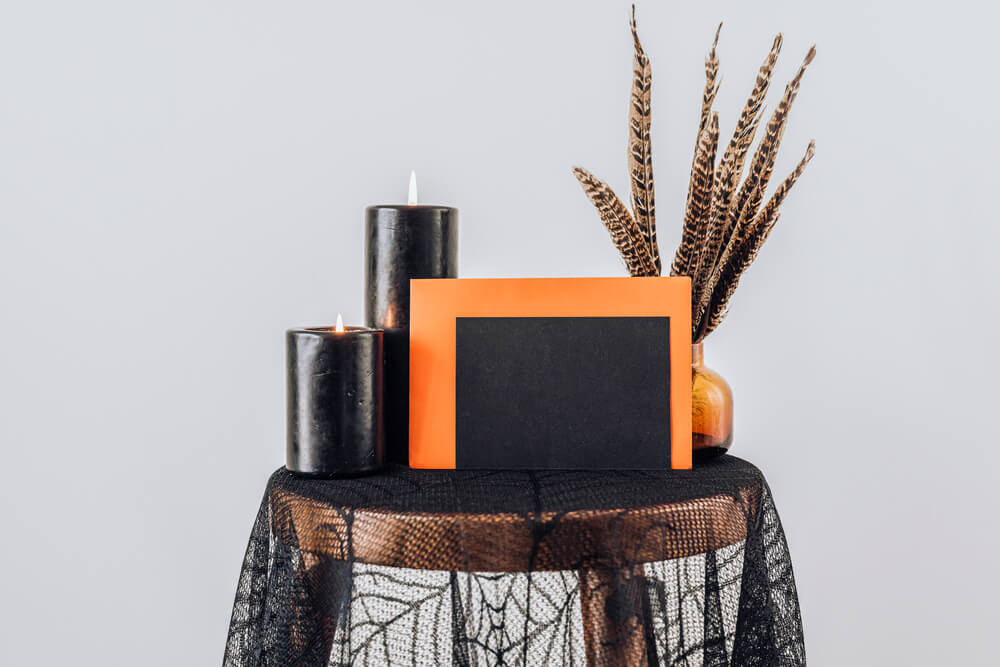 The mom-to-be is going to need a place to open her presents, so you'll want to set up a ghoulish gift station that's fit for a Halloween baby shower! Need some cute decor to go with your theme? Check out these creepy yet classy table ideas.
Include a Hint of Gothic Glamor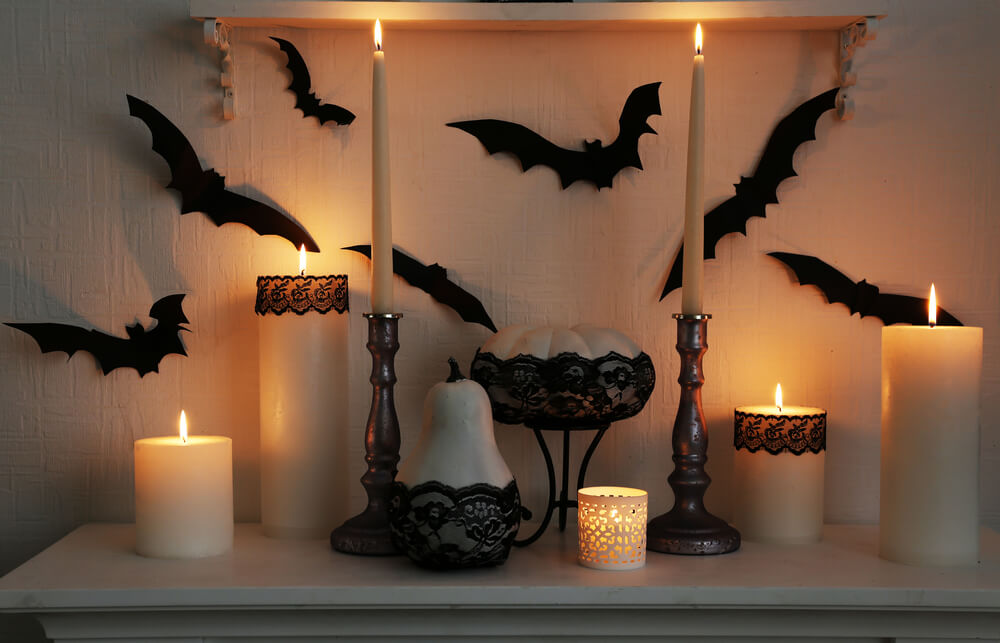 If you want to give your Halloween baby shower a chic, grown-up vibe, you'll want to go with a Victorian gothic theme. It's the perfect way to combine ghosts and glamor! Here's a simple accent that's sure to add a little vampiric elegance to your decor. Take a look at these lace ribbons that will instantly make your party space look more luxurious.
Paint Pumpkins Instead of Onesies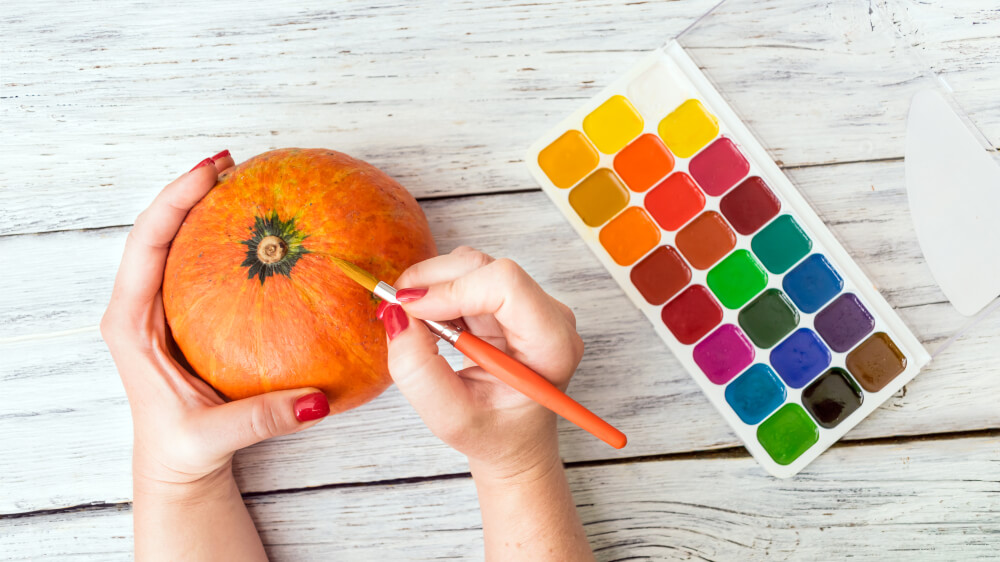 You can't have a baby shower without cute (and slightly cheesy) activities. Here's a sweet and spooky idea for a Halloween-themed gathering: have each of your guests paint a pumpkin to welcome the new baby into the world! Check out these unique designs the parents-to-be will be proud to display on their porch all October long.
Set up a Boo-tiful Backdrop for Photos
Everyone is going to want to take a photo with the mom-to-be, so you should set up a designated space for group pictures! Decorate a freaky-fun backdrop so that your cute Halloween theme comes through in the baby shower photos. You can find some adorable wall hangings and other spooky decorations in this article.
Create a Ghostly Atmosphere with Dry Ice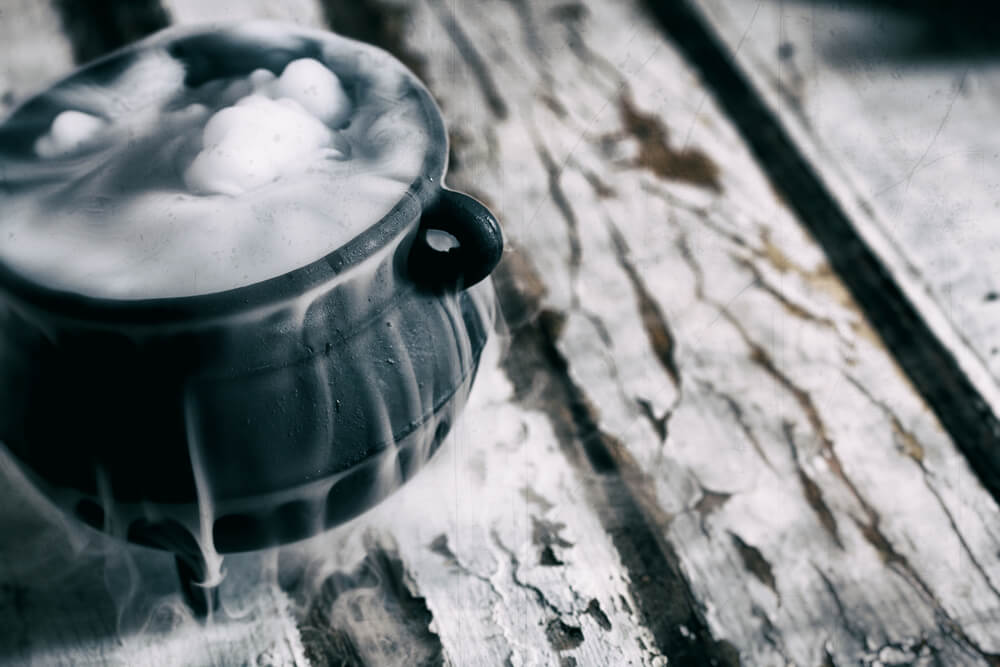 Want to add a bit of ghostly glamor to your buffet or gift table? Try using dry ice to create the perfect spooky atmosphere for your Halloween baby shower theme. Check out this article to learn more about how to work with this versatile substance.
Mix a Booze-less Brew (But Provide an Alcoholic Option)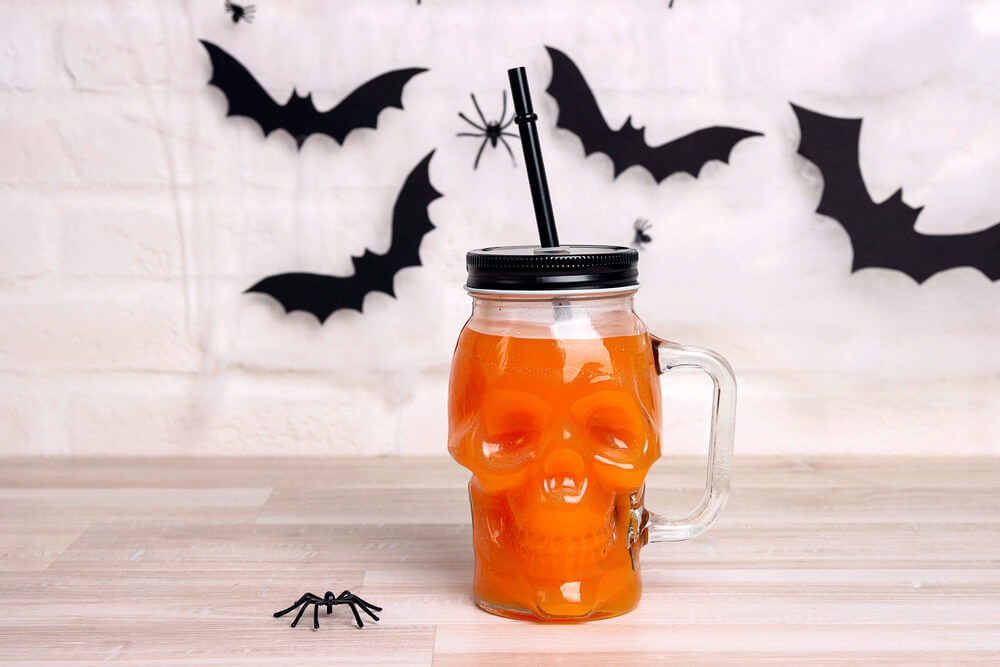 Move over, mimosas; a Halloween baby shower theme calls for a spookier brew! Take a look at these drink recipes and other creepy-cute party ideas your guests will love. Just be sure to provide non-alcoholic as well as BOO-zy options so the mom-to-be can partake!
Decorate Edible Haunted Houses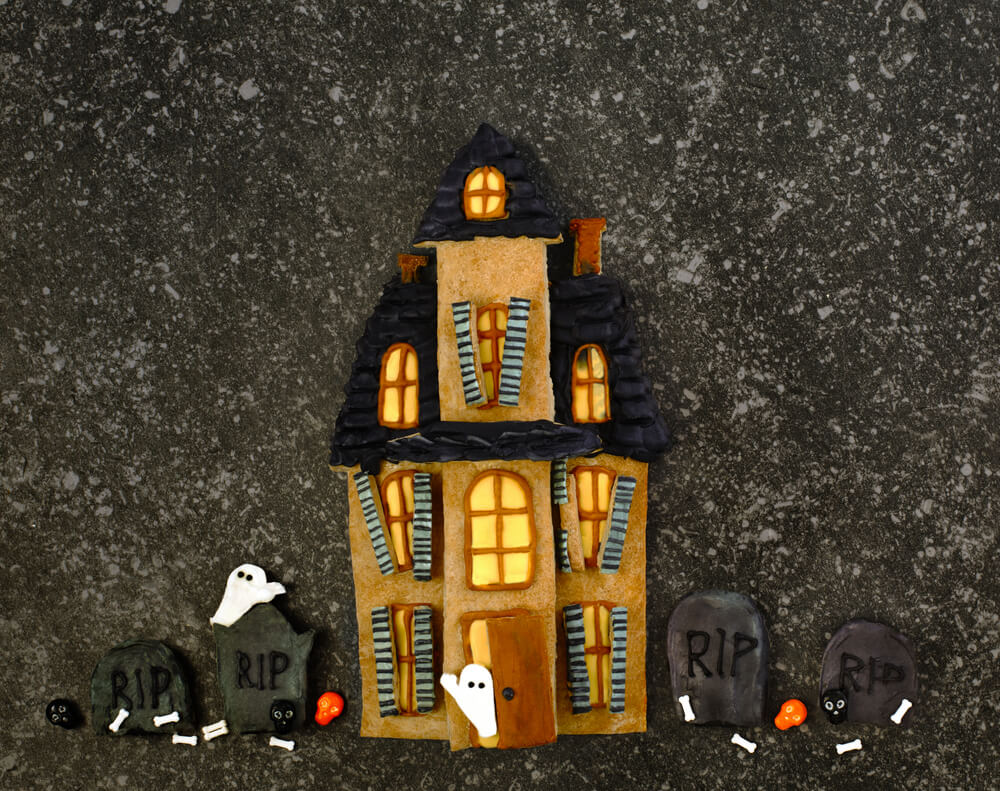 Are you looking for more cute and spooky activities to entertain your baby shower guests? Here's a creative idea that's perfect for your Halloween theme. Divide everyone into groups and have them decorate haunted cookie houses with candy and other treats!
Prepare a Few Freaky Favors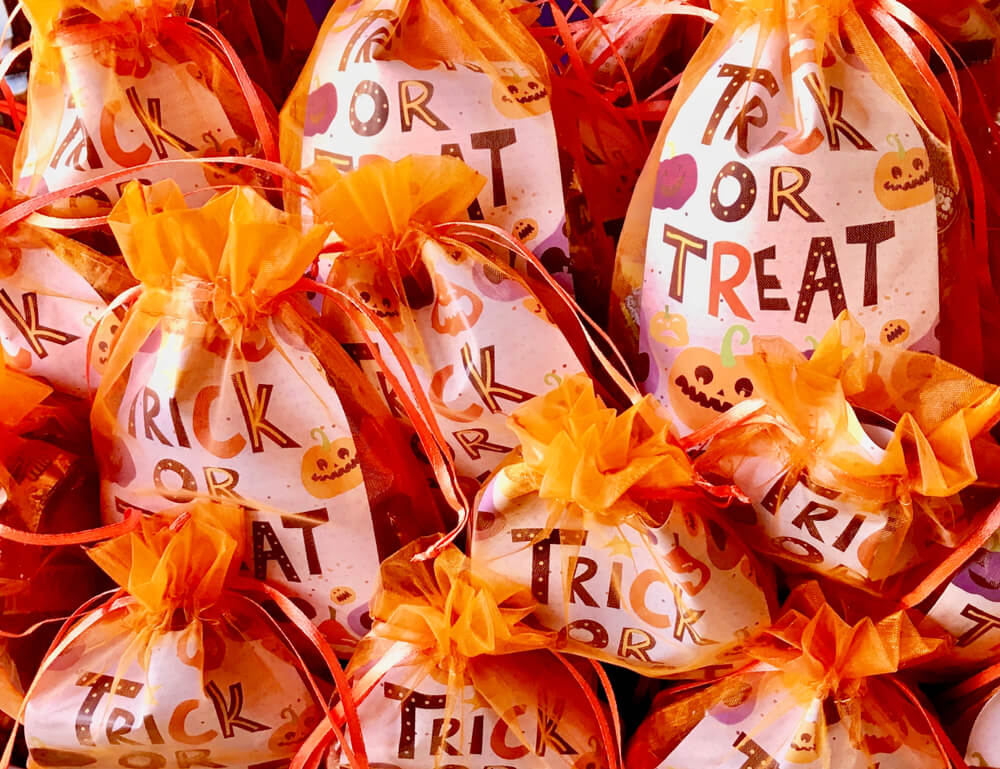 One of the best parts of Halloween is going trick-or-treating. Bring back fond childhood memories for your baby shower guests and the parents-to-be with this frighteningly cute party favor! Fill a gift bag for each attendee with candy and a few of these adorably nostalgic, spooky-themed toys and trinkets.
Pick Out an Unforgettable Personalized Gift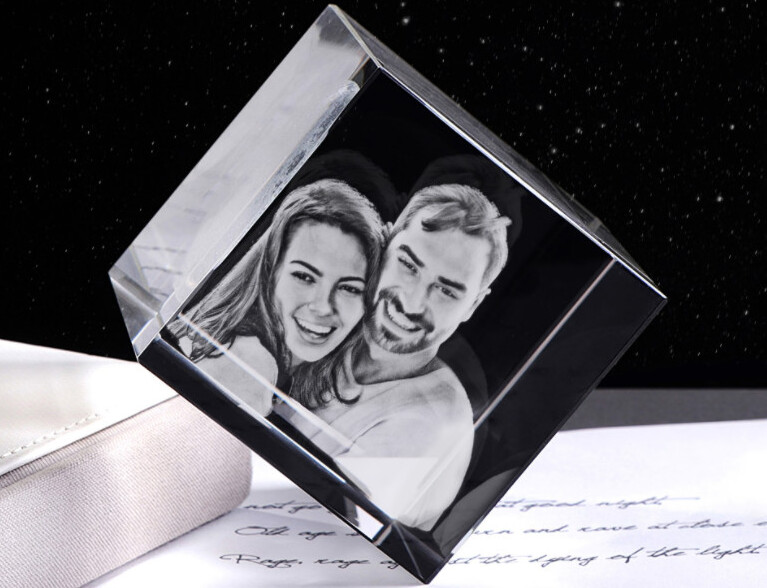 3D Crystal Square from ArtPix 3D
As you plan the cutest Halloween baby shower ever, don't forget to get the mom-to-be a gift! If you're looking for something unforgettably unique, ArtPix 3D can turn a precious photo into a customized 3D engraved crystal keepsake that looks almost real. Check out our collection of innovative crystal shapes here.
We hope these cute Halloween-themed baby shower ideas inspire you to throw an incredible party for the expecting parents this spooky season! If you're looking for personalized gifts that are guaranteed to wow your loved ones, you can browse our shop.