16 Cute and Spooky Ideas to Fill a Halloween Gift Basket
Surprise your loved ones with ghoulish gift baskets filled with these hand-picked Halloween items that are to die for!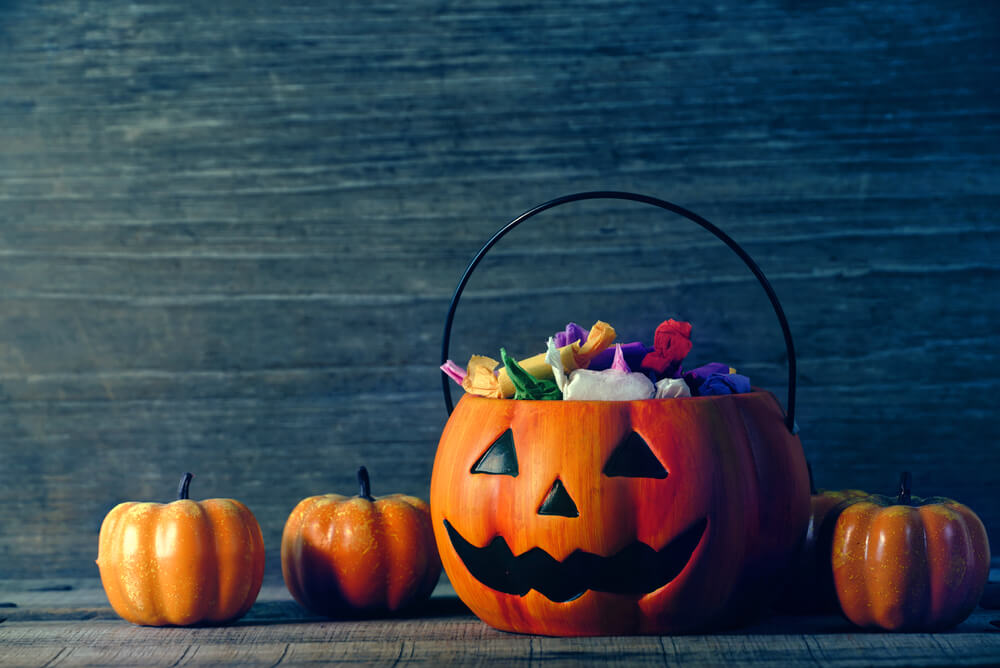 Athitat Shinagowin/Shutterstock
Who said that candy was just for trick-or-treaters? If this spooky season has you in a giving mood, spread the Halloween spirit to everyone you love. With a bit of creativity, you can put together some truly terrifying treat bags that are perfect for scaring— er, sharing! From haunted home decor to ghostly goodies, we've rounded up some of the best ideas to fill a Halloween gift basket.

Of course, not everyone gets a thrill out of being scared on Halloween. If you're looking for some autumn gift inspiration that's more cozy than creepy, we've got you covered. Check out this post for the cutest non-spooky items to give this fall!
Are you ready to wow your friends and family with treat-filled Halloween gift baskets? Continue reading to discover the best gift ideas to make this season extra spooky!
A Spooky Scented Candle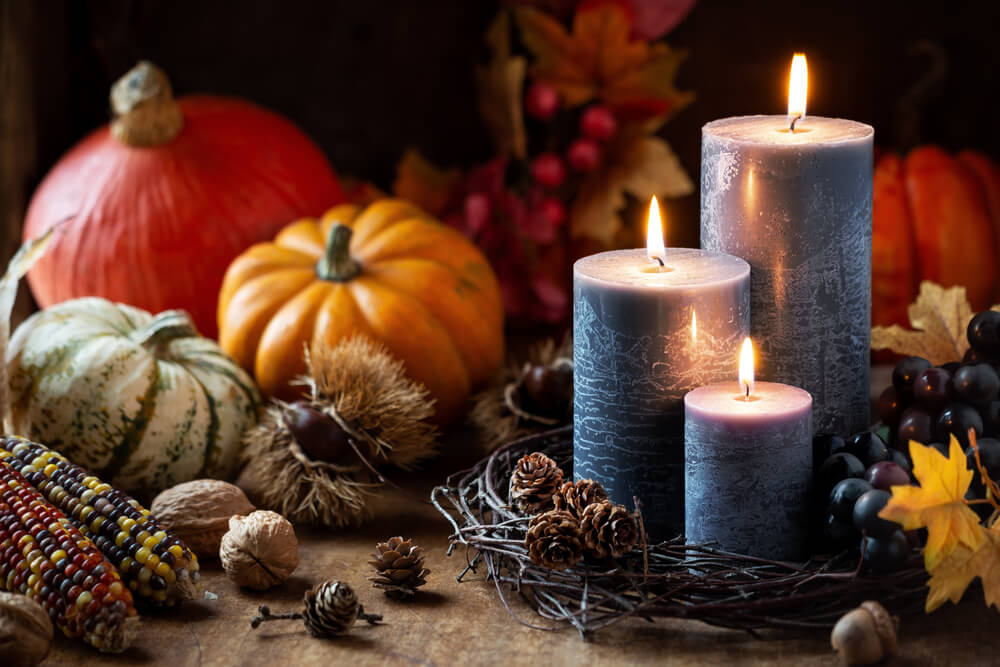 kuvona/Shutterstock
There's no better way to tell scary stories than gathered around the ghostly glow of candlelight! These cute and creepy scented candles capture all the best smells of spooky season. Plus, they add a magical touch to any indoor Halloween decorations, making them a hauntingly elegant item to round out your gift baskets.

A Personalized Crystal Keychain Light

Personalized Keychain Rectangle from ArtPix 3D
Are you scared of the dark? Don't worry; this Halloween gift basket stuffer will help ease your fears. Our crystal keychains can be personalized with a sweet picture of someone you love, and they light up at the press of a button. Attach it to your set of keys, and you'll always have a smiling face to watch over you any time you leave the house! Check out our unique shapes here.
Hot Cocoa Bombs with an Autumn Twist
Bochkarev Photography/Shutterstock
Could there be a better drink to enjoy on a chilly autumn night than a cup of hot cocoa? Try one of these pumpkin spice hot cocoa bombs, and you may never go back to drinking your hot chocolate plain! This sweet treat goes great with leftover Halloween candy, so consider adding a few to your gift baskets this spooky season.

A Succulent Planter for Ghoulish Gardening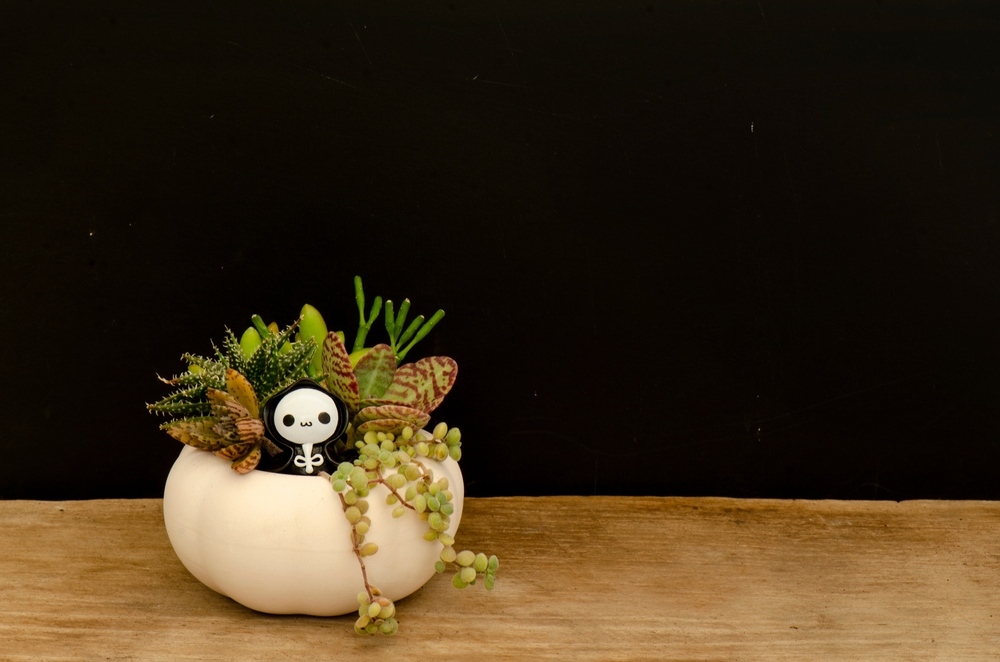 panattar/Shutterstock
Are you putting together a Halloween gift basket for a proud plant parent? Here's a spooky decor item to help them turn their indoor nursery into a ghostly garden. Take a look at this cute and creepy succulent planter, along with a scary-good lineup of other haunting home decorations your friends and family are sure to love.
A Pumpkin Carving Kit

Yuganov Konstantin/Shutterstock
It's not spooky season until you carve a frightening face into a pumpkin and display it on the front porch. If you're looking for cute and useful items to fill your Halloween treat bags this year, these handy tools are sure to make decorating ghostly gourds easy and fun! This is an especially thoughtful gift basket idea for families with kids.

Pumpkin-Scented Hand Sanitizer


The scariest creatures you'll encounter on Halloween are the ones you can't see. We're not talking about ghosts— we're talking about germs! Protect your loved ones with this thoughtful gift basket stuffer. Check out the pumpkin spice sanitizing spray in this list of innovative pumpkin-scented products and treats.

A DIY Halloween Mask Kit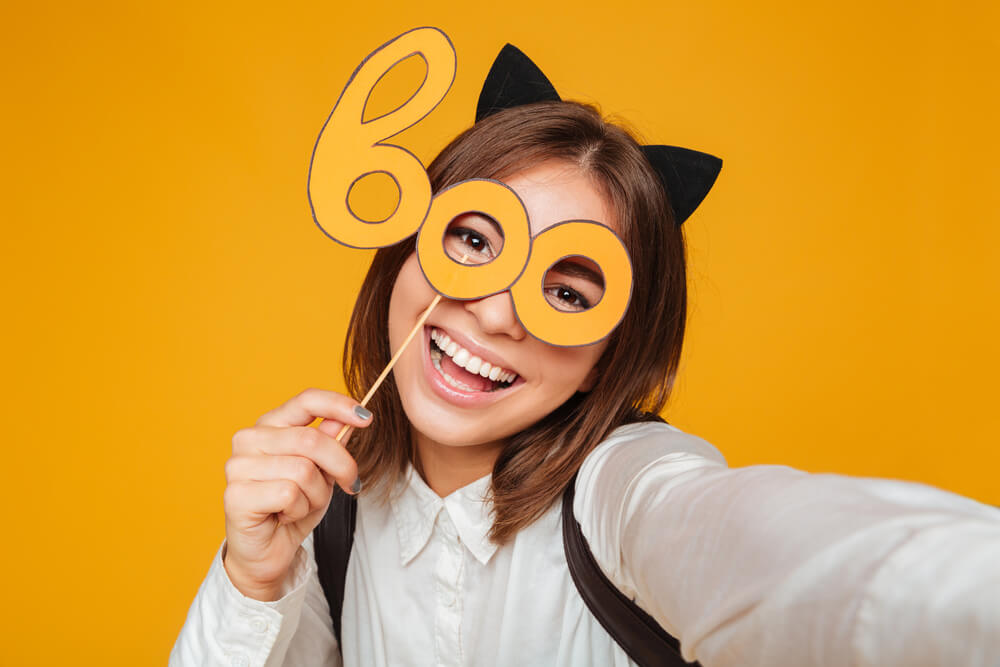 Dean Drobot/Shutterstock
Are you looking for creepy craft ideas to include in your Halloween gift baskets this spooky season? Here's an adorable idea both kids and adults will love. These DIY mask-making kits help you create costume accessories out of paper! Whether they're dressing up cute or scary (or both!), your friends and family will love getting this artsy present in their treat bags.

A Sinister Shot Glass

While shopping for ghoulish gifts and goodies to fill up your Halloween baskets this October, don't forget to include a few items for the adults! These diabolical drinkware sets are perfect for mixing creepy cocktails or serving scary shots, making them an excellent addition to a spooky treat bag for grown-ups.
A String of Halloween Lights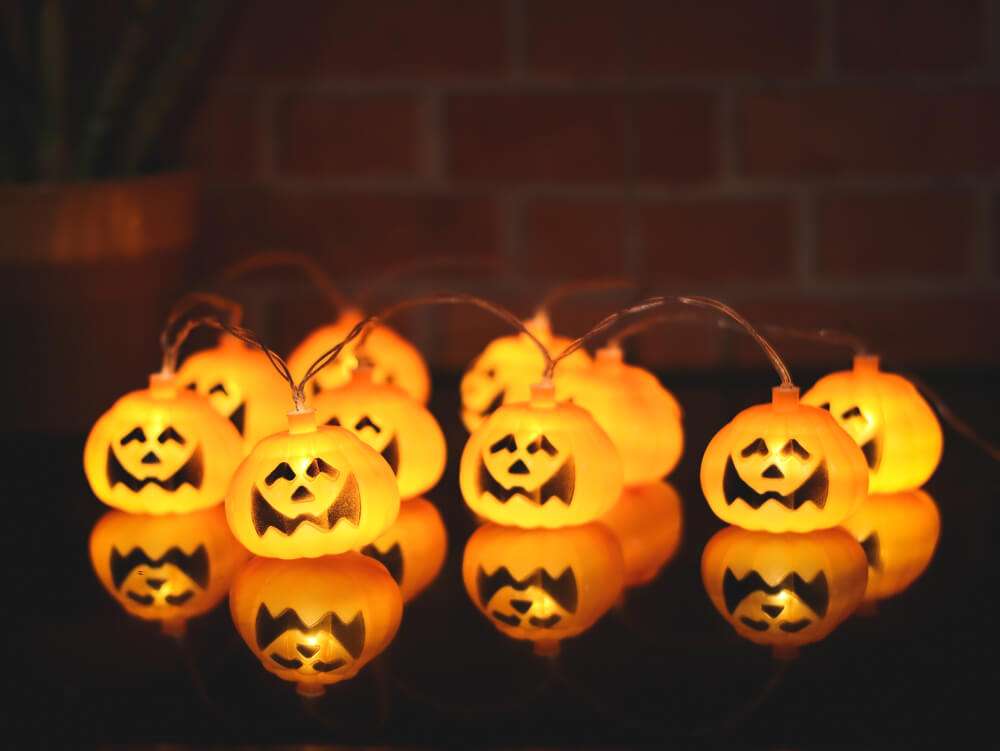 Phuttharak/Shutterstock

There's no better way to get into the spooky spirit than turning your home into a haunted house with fun decorations! Here's an extra creative idea to include in your gift baskets and treat bags this year. Your friends and family will love these charming pumpkin string lights and other unique decor items that say "Happy Halloween!"
A Gift Card to a Local Coffee Shop

Everyone has a favorite seasonal drink to get them in the Halloween spirit. If you're looking for thoughtful items to fill your spooky treat bags, your friends and family would love a gift card to their preferred local coffee shop. That way, you won't have to guess if you're shopping for a pumpkin spice enthusiast or an apple cider connoisseur; they'll be able to purchase the beverage of their choice!

Creepy Cookies and Cupcakes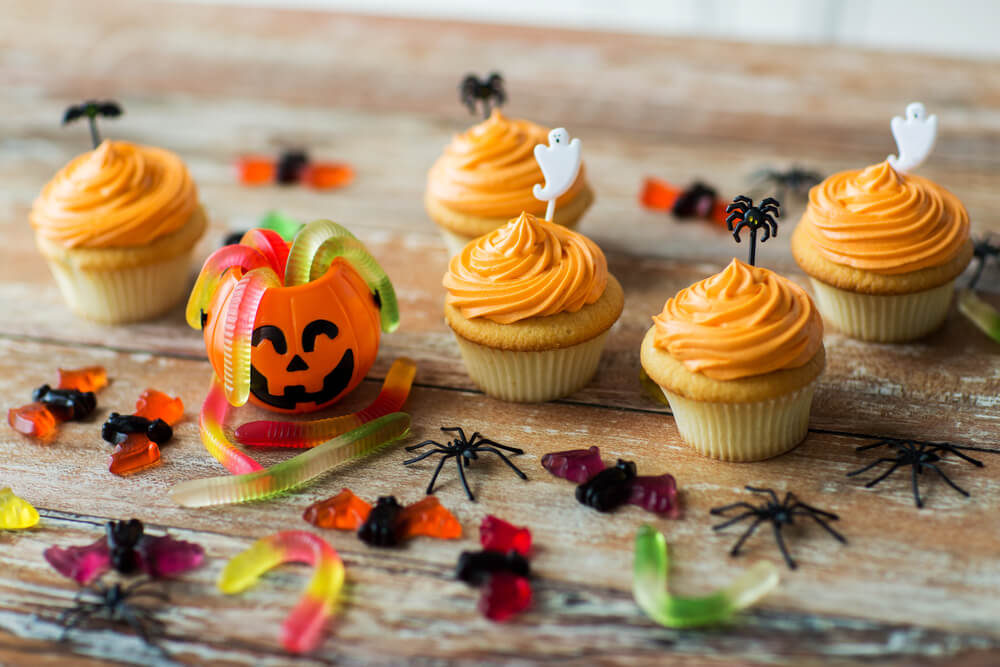 Syda Productions/Shutterstock
Do you want to get a little more creative with your sweet treats this Halloween? Round out the selection of eerie eatables in your Halloween gift baskets with a few homemade goodies this spooky season! Check out these recipes for cupcakes and cookies that are not only pretty to look at, but oh-so-delicious.
Seasonal Hand Soap that Smells Like Fall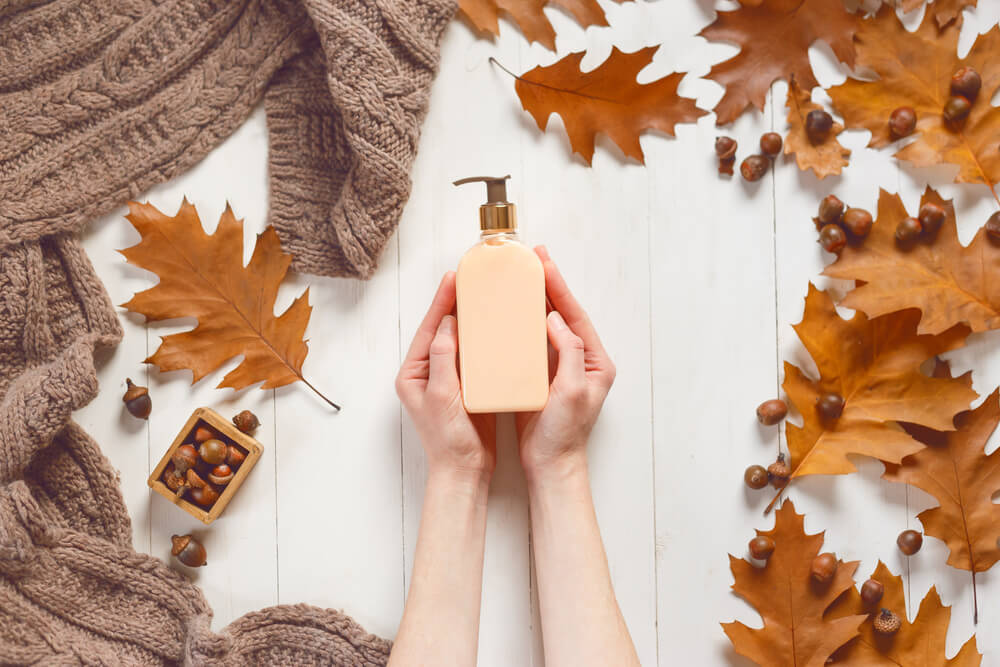 Unfortunately, spooky season happens around the same time as flu season. Here's a thoughtful present to help your loved ones stay healthy with a bit of fall flair. Remind your friends and family to wash their hands frequently by adding one of these autumn-scented soaps to the terrifying treats and goodies in their Halloween gift baskets!
A Skin-Reviving Sheet Mask


Wearing elaborate costume makeup on Halloween can be a blast, but it can also take a toll on your skin. This helpful self-care item would make an excellent basket filler for your spooky treat bags this year. Check out these facial sheet masks that can provide some necessary pampering after a night of scary fun!

A Fall-Themed Embroidery Kit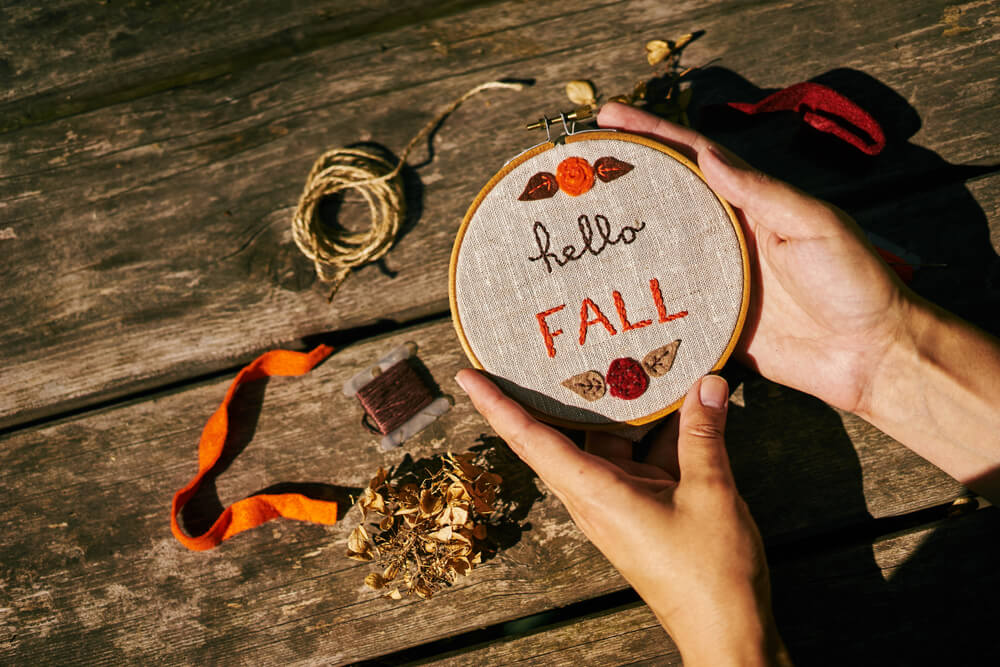 Valeria Selezneva/Shutterstock

For those planning to spend a relaxing Halloween night on the couch, here's an excellent fall activity to include in their spooky gift basket. An embroidery project that lets them create adorable autumn designs to decorate their home would make a sweet seasonal gift! Take a look at these embroidery kits and other crafting supplies your friends and family will love.

A Custom Engraved Wine Stopper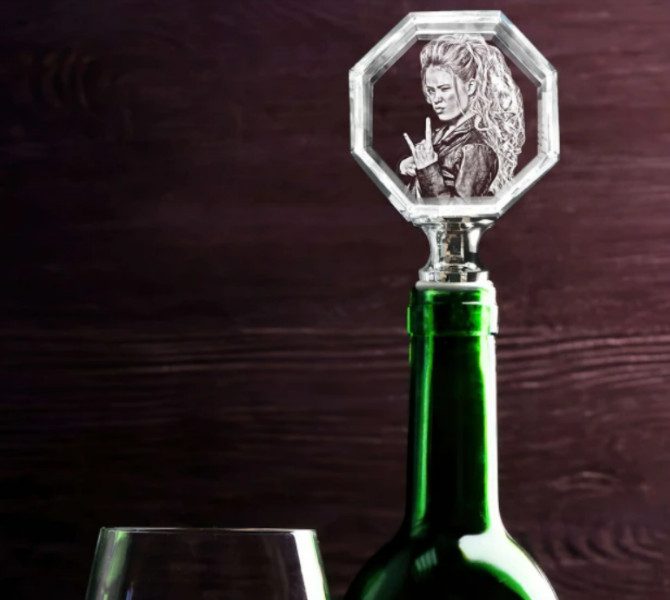 Personalized Octagonal Wine Stopper from ArtPix 3D
Ready to raise your glass to another happy Halloween? Here's a unique home bar gift friends and family would love to find in their haunted treat baskets this spooky season. Turn a sweet photo into a custom engraved wine stopper at ArtPix 3D! Take a look at our charming selection of shapes here.
Halloween Candy (Obviously)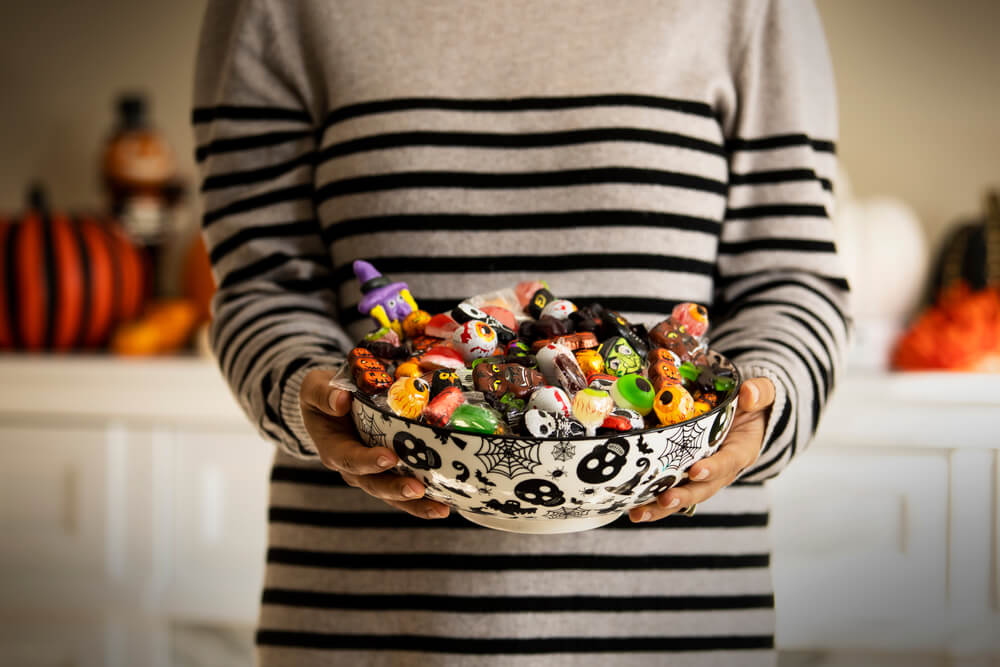 ALBERTO TOLENTINO/Shutterstock
As you fill your Halloween gift bags with fun and scary items, make sure you don't forget the most crucial component: lots and lots of candy! These seasonal versions of all your favorite sugary treats are guaranteed to make the perfect haunted basket stuffers for your friends and family members this year.
We hope this post inspires you to wish your loved ones a Happy Halloween with a sweet and spooky treat basket! If you're on the lookout for even more amazing gift ideas, you can check out the rest of our blog here. You can also browse personalized photo gifts for every occasion in our shop.