17 Friendsgiving Ideas to Make Turkey Day with Your BFFs the Best Ever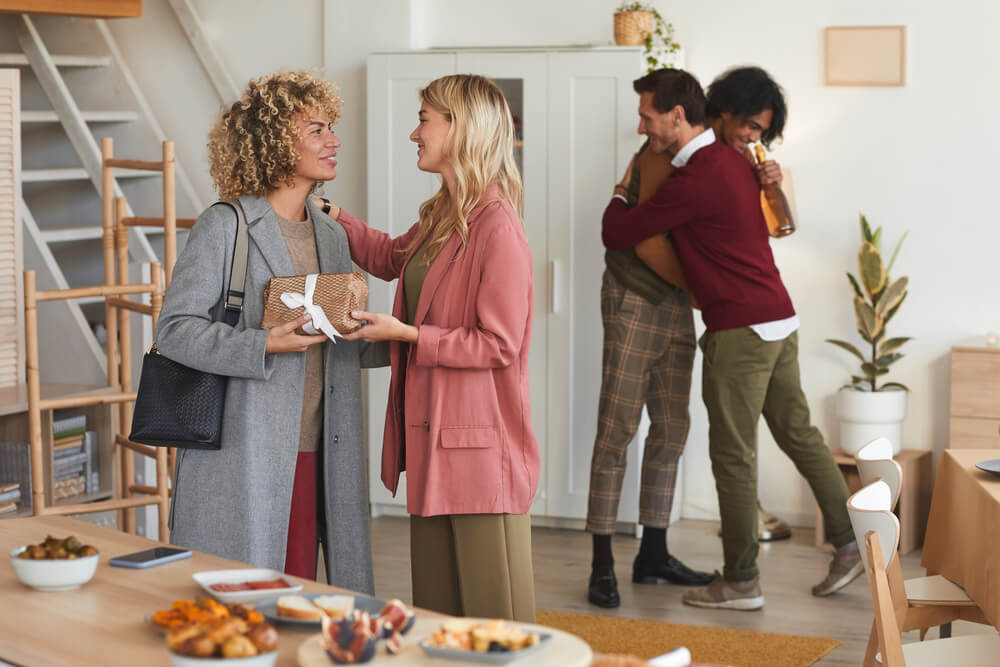 Are you craving some quality time with your BFFs? Thanksgiving is an excellent opportunity to gather around the table and share a meal with the loved ones you're thankful for. If you want to plan an extra special Turkey Day dinner just for your besties, Friendsgiving is the fun, low-key holiday you need to start celebrating!
How do you host a Friendsgiving dinner? At its most basic, Friendsgiving is just inviting your buddies over for a meal on or around Thanksgiving. However, it's the festive details that make all the difference. In this post, we're going to give you our best tips for planning a holiday dinner party for the BFFs you couldn't live without!
Create a Homey Atmosphere with Fall Decor
The first step to hosting an unforgettable Friendsgiving is to prepare your home for guests. We're not just talking about tidying up, although that's pretty important, as well. To get everyone at your table in the holiday spirit, you'll need to brighten up your space with Thanksgiving decorations! These creative and cozy decor items will have you and your besties feeling thankful on Turkey Day.
Decorate a Thanksgiving Tree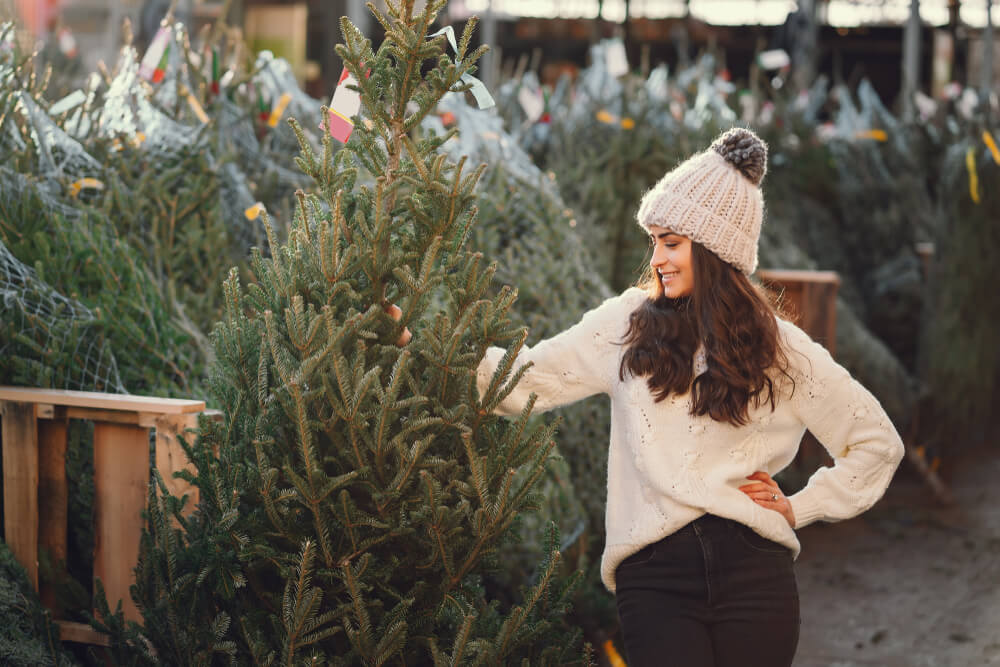 Oleggg/Shutterstock
Everyone tends to get busy around the holidays, so Friendsgiving could be the last time you see some of your best buds until the new year! If you won't be able to celebrate Christmas with your friend group, serve a little yuletide cheer with your Thanksgiving and decorate a festive fir tree with tiny gourds and autumn leaves. Get inspired by these Turkey Day tree ideas!
Place a Holiday Wreath on Your Door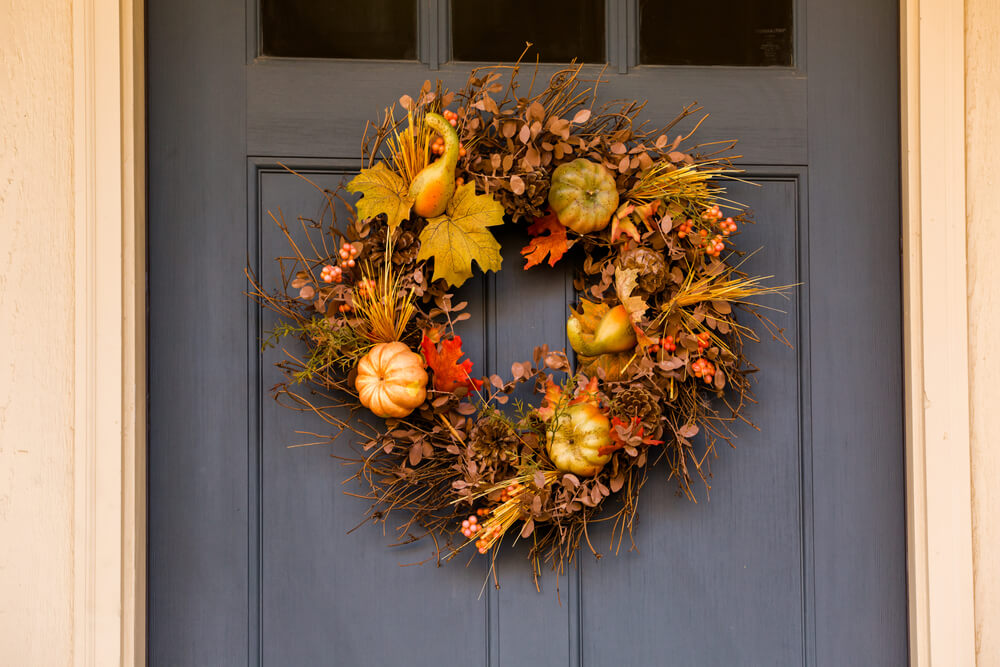 Arina P Habich/Shutterstock
As you decorate your space for Friendsgiving, don't forget about the front door! Make your guests feel at home as soon as they ring your bell by putting up a beautiful Thanksgiving garland. You'll be thankful for these autumn wreaths you can easily order online!
Set an Inviting Thanksgiving Table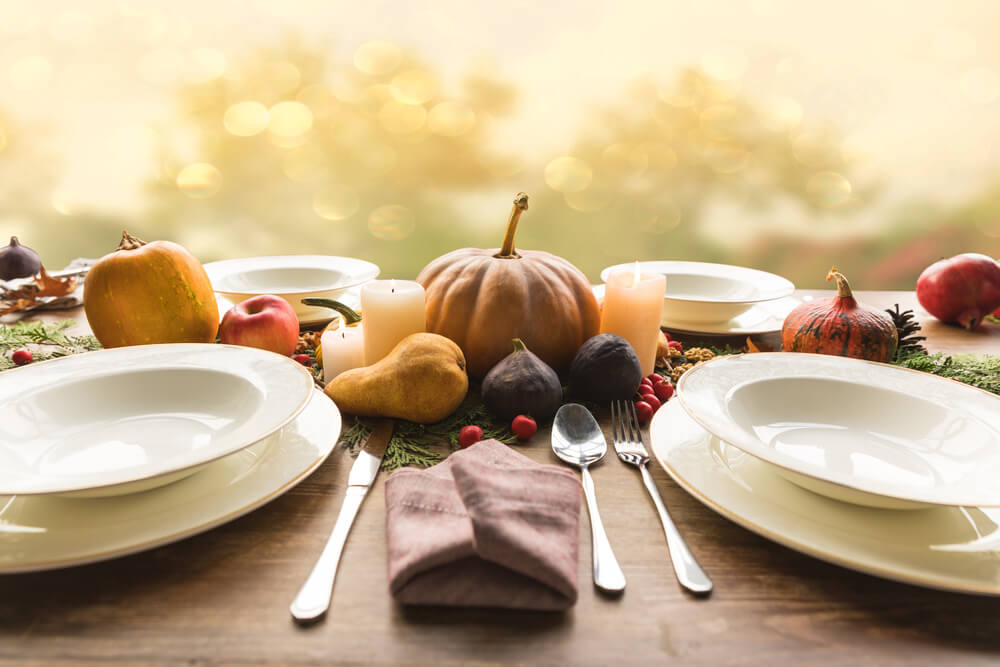 LightField Studios/Shutterstock
If the meal is the star of the show on Thanksgiving, then the tablescape is the stage! Turn your dining room into a welcoming space where you and your besties can celebrate how thankful you are to be together. Here are some of the best Friendsgiving ideas to help you set a table that captures the spirit of the holiday.
Mix Some Thanksgiving Cocktails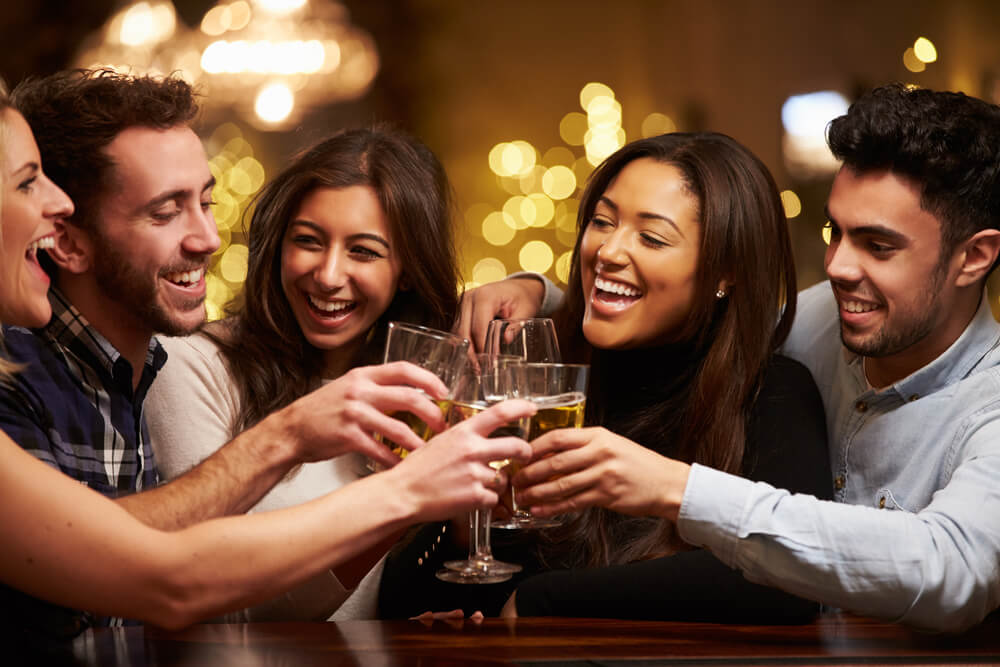 Monkey Business Images/Shutterstock
Nothing adds class to a dinner party like a signature cocktail. If you want to impress your besties this Thanksgiving, you'll need to put some thought into your beverage menu! Need some inspiration? Check out these autumn-themed cocktail recipes that will go perfectly with your holiday meal.
Make Sure You Have Everything You Need in Your Kitchen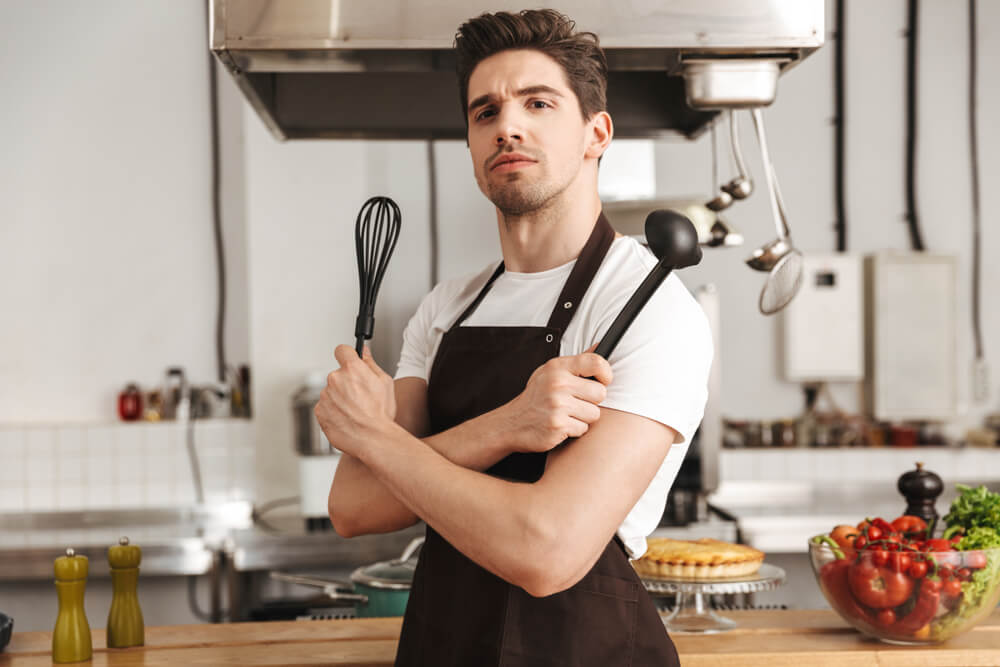 Dean Drobot/Shutterstock
There's nothing worse than realizing you're missing an essential cooking tool or serving dish when you have holiday guests on the way! Be sure to read through all your Friendsgiving recipes beforehand to avoid any last-minute surprises. Take a look at this list of kitchen tools you'll be thankful to have on hand!

Start with Thanksgiving Appetizers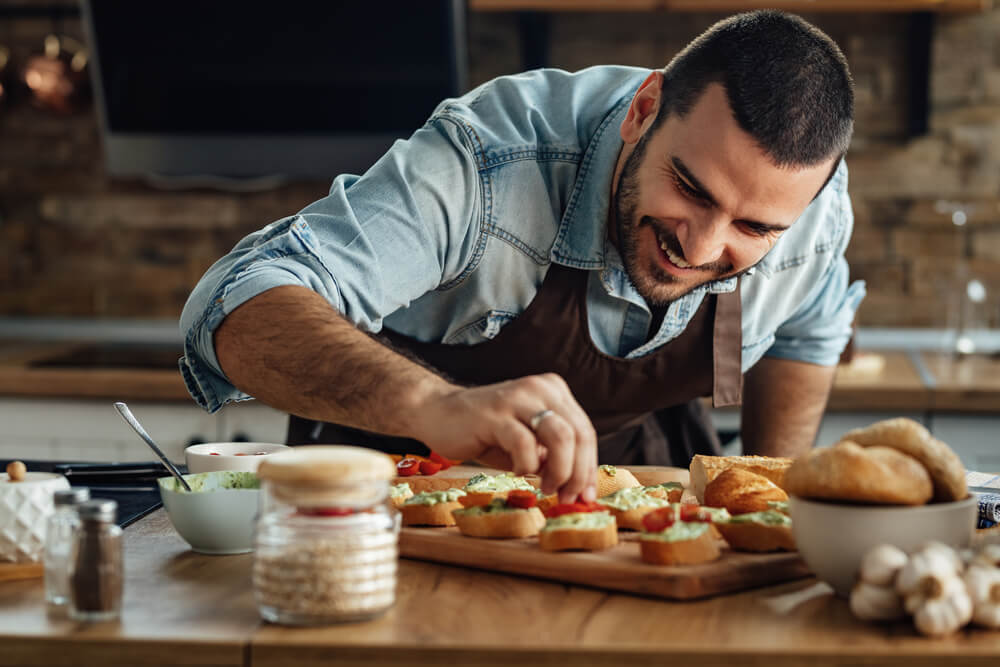 Drazen Zigic/Shutterstock
Your Friendsgiving guests probably won't all arrive at once, so you'll need to factor in some mingling time before the meal. Earlybirds will be thankful to have something to snack on until it's time to eat, so consider preparing some holiday appetizers to tide them over. These simple recipes are guaranteed to satisfy rumbling stomachs— but not too much!
Order a Simple Thanksgiving Meal Delivery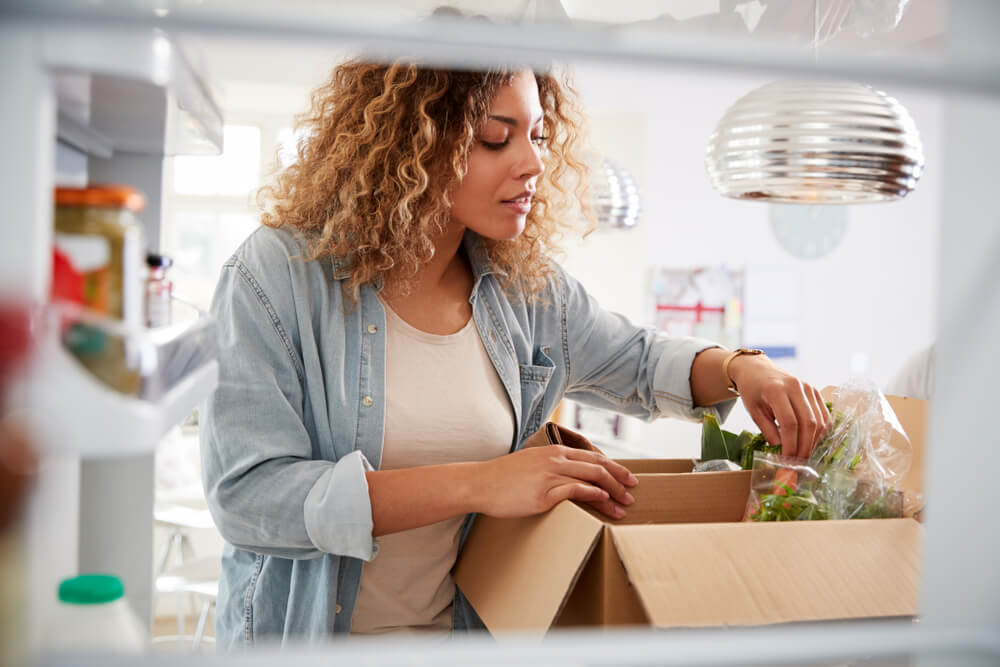 Monkey Business Images/Shutterstock
As much fun as having people over for Thanksgiving dinner is, it can also be a lot of work. Skip the inevitable stress of cooking and have your holiday meal delivered instead! Here are some of the best places you can order premade Friendsgiving dishes online.
Make it a Pot-Cluck (Get It?)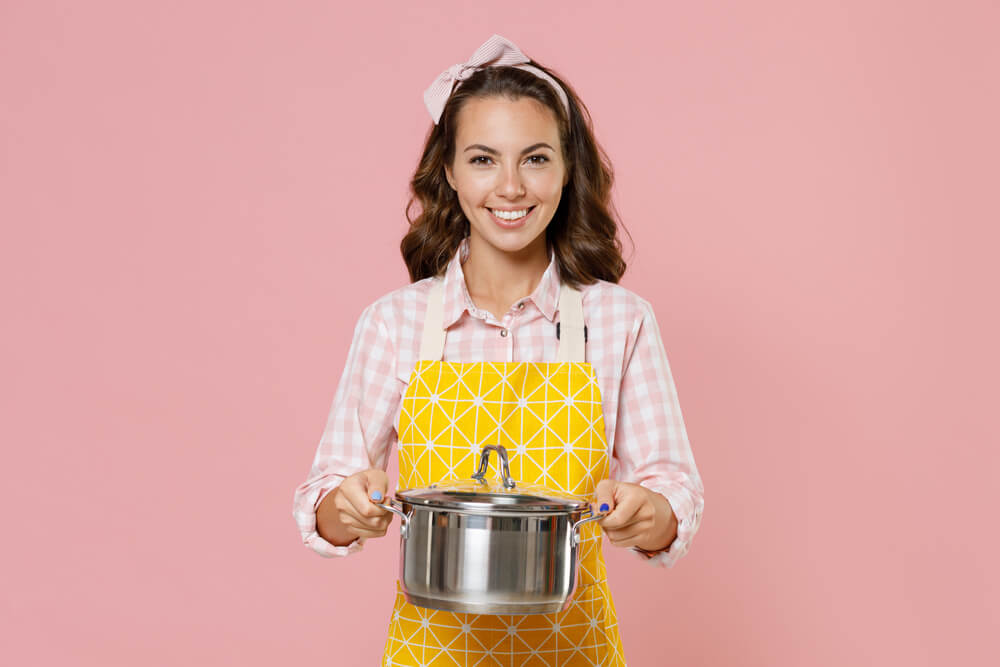 ViDI Studio/Shutterstock
You may be looking forward to impressing your guests with your excellent cooking skills this Friendsgiving, but you should still give them the chance to contribute if they want to. Invite everyone in your friend group to bring a favorite Thanksgiving dish to share! Even if they choose not to, they'll be thankful for the opportunity.
Ditch the Turkey and Try a Non-Traditional Main Course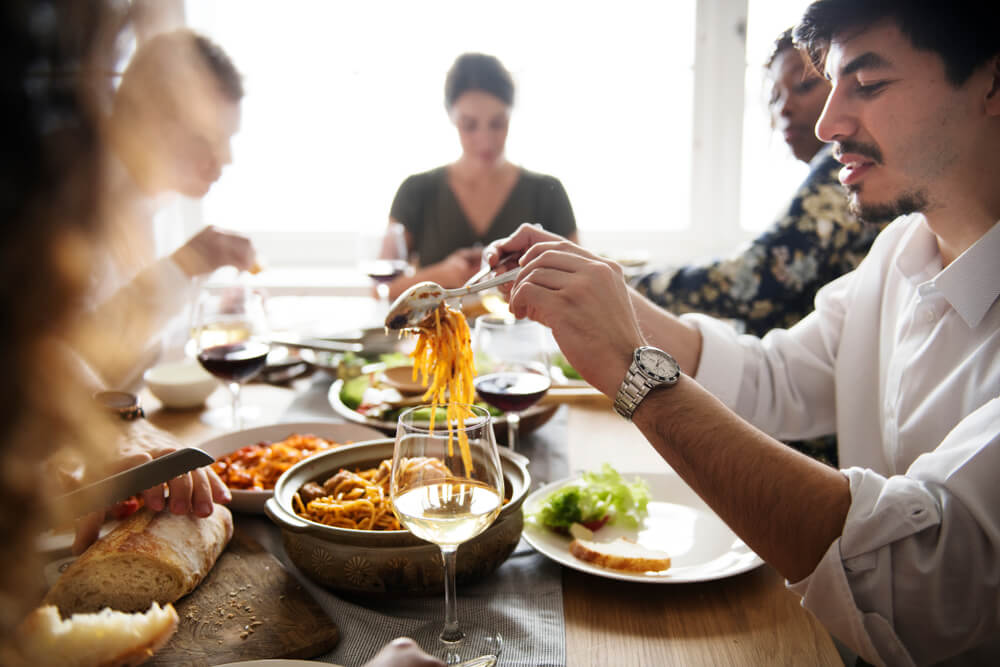 Rawpixel.com/Shutterstock
Cooking an entire turkey is by far the most daunting part of hosting a Thanksgiving meal. Thankfully, there are no rules on Friendsgiving. If you're not in a hurry to bake a giant bird in your oven, you can simply choose not to do it! However, be sure to replace it with another main holiday dish, preferably one that's easier to prepare.
Be Ready to Accommodate Dietary Restrictions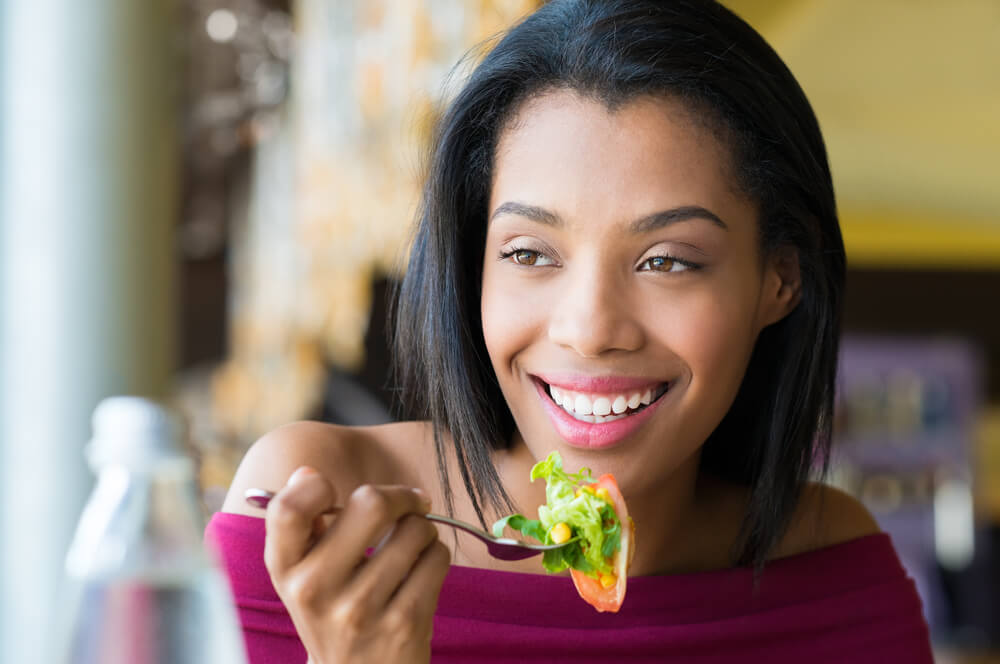 Before you lock down your Friendsgiving menu, you should contact your holiday guests and find out if there are any dietary restrictions you should be aware of. That way, you can provide a variety of options that everyone can enjoy! Get inspired by these delicious alternative Thanksgiving recipes your gluten-free visitors will love.
Get Your Pie and Other Thanksgiving Sweets Delivered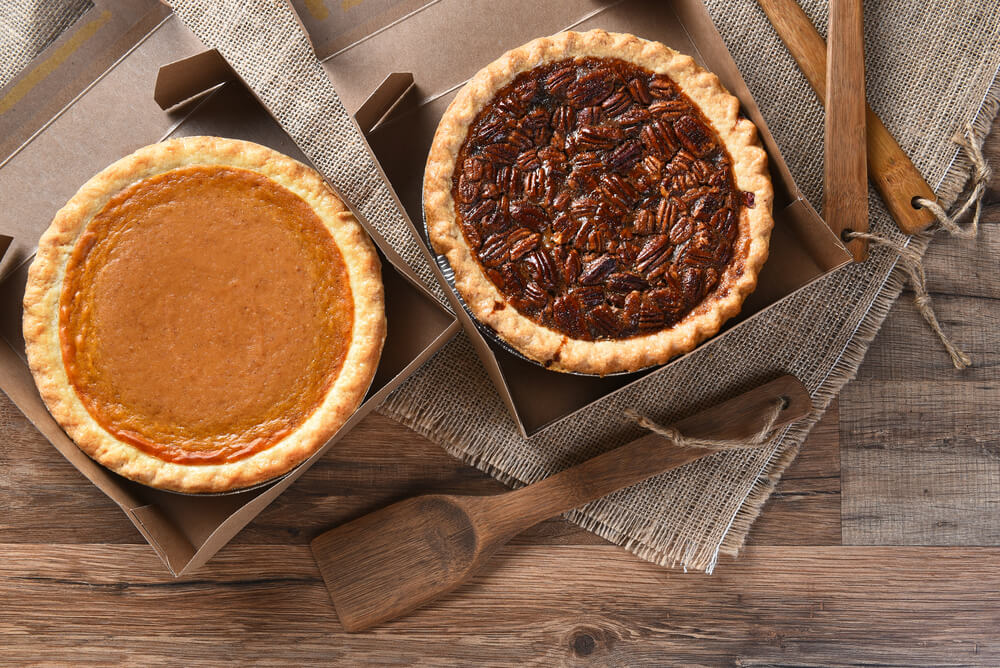 Not feeling up to baking your own holiday pies for Friendsgiving? Thankfully, you don't have to! There are plenty of places where you can order pies, cakes, and other seasonal treats online. Check out these incredible desserts you can have shipped to your home.
Add Seasonal Cookies into the Mix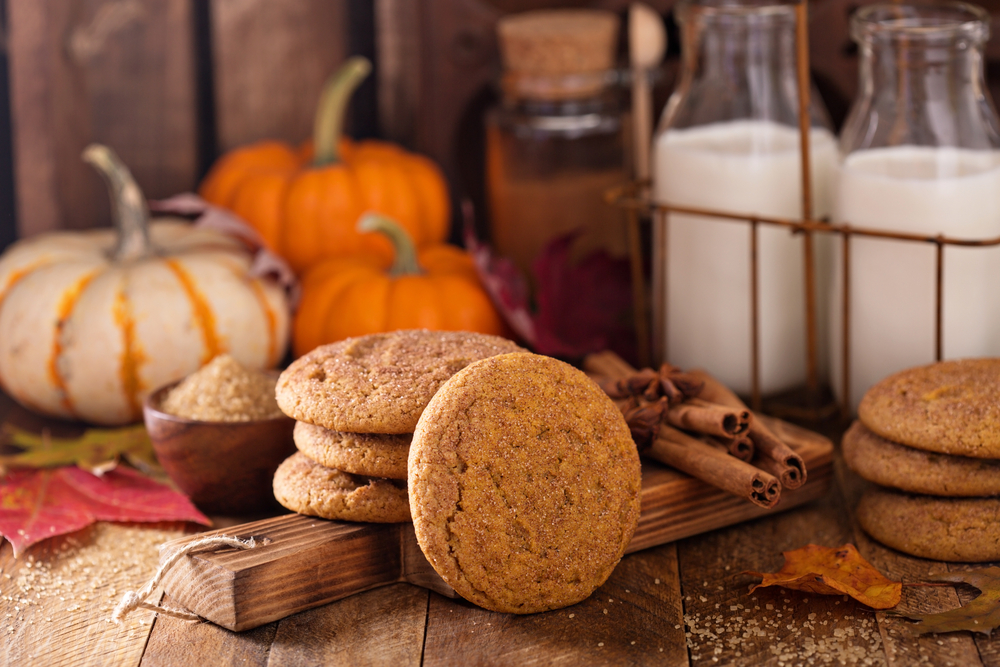 Elena Veselova/Shutterstock
Pumpkin pie is a Thanksgiving staple, but it shouldn't be the only sweet treat on your holiday table. Guests who only want a small bite of dessert after dinner will be thankful to find an assortment of seasonal cookies on the menu! These delicious recipes are an excellent way to round out your offerings.
Pick Up Some Extra Food Storage Bags and Containers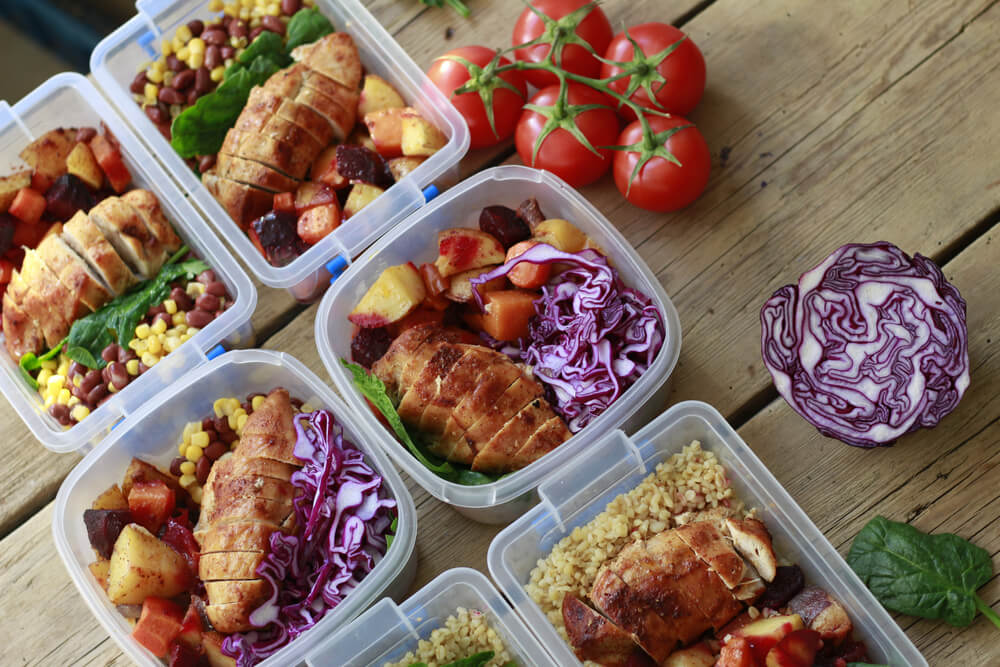 Is there such a thing as too many Thanksgiving leftovers? Yes, actually. Unless you want to eat nothing but cold turkey sandwiches until Christmas, you should invite everyone to take home some food! If you're worried you'll never see your containers again, here's a simple solution: purchase disposable bags and storage tools your holiday guests can keep. You can also ask them to bring their own.
Prepare a Few Conversation Starters to Break the Ice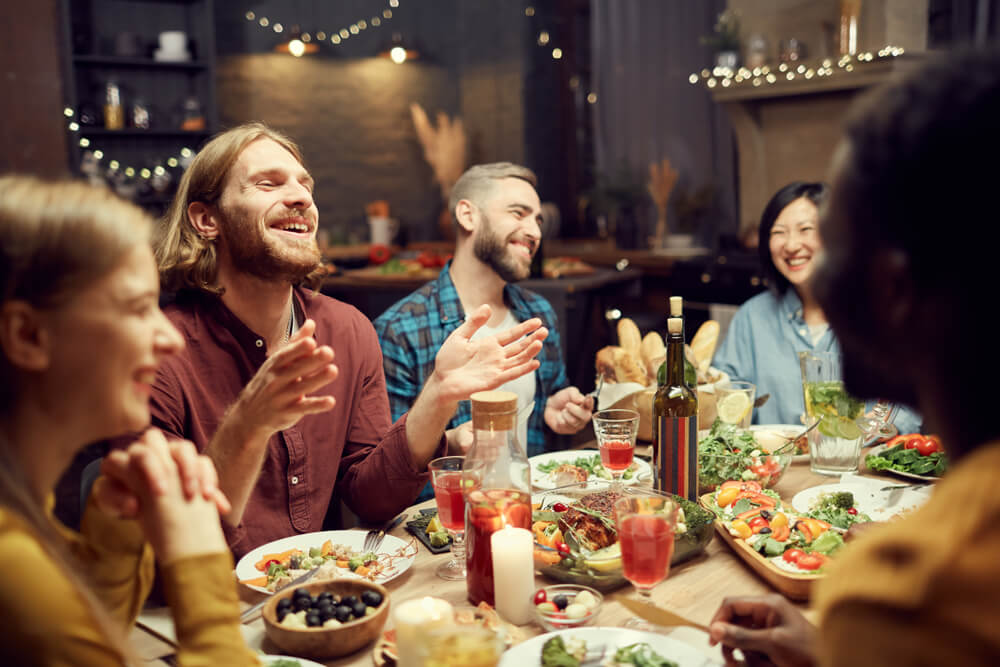 It's not enough to gather your guests around a dinner table and call it a holiday party. If you want to make this Thanksgiving unforgettable, you'll need to come up with some creative ideas to get everyone talking. Find a list of conversation starters online or make up your own questions, such as, "What are you thankful for this year?" or "What's your favorite Thanksgiving memory?"
Queue Up a Few Seasonal Watches to Stream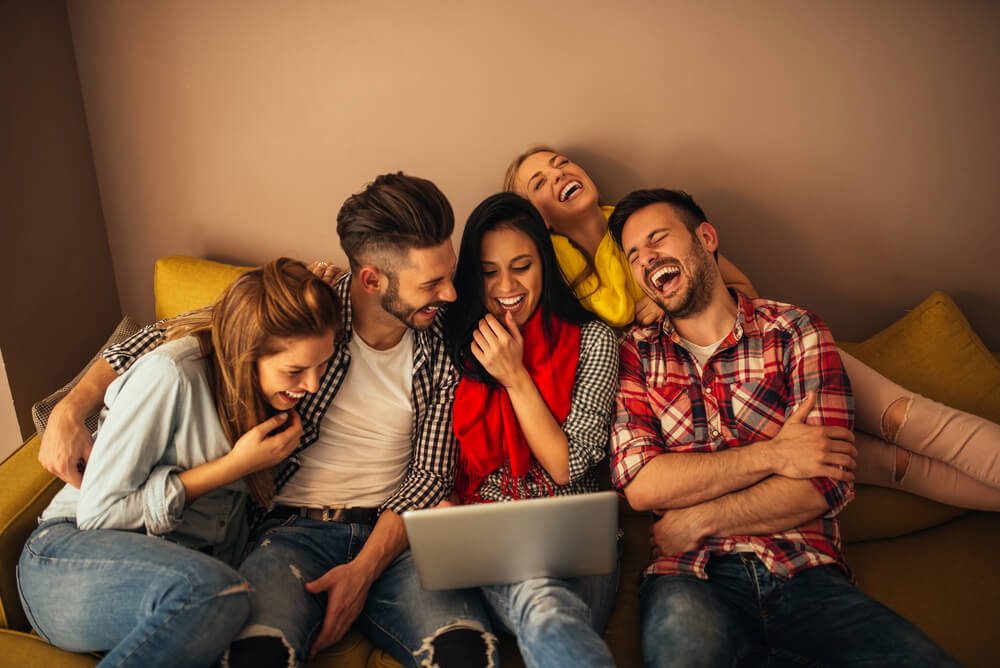 There's no better way to recover after a filling Friendsgiving meal than gathering around the television for a classic holiday film or a few episodes of your favorite tv show! Make a list of all the best viewing options available on your usual streaming services for your guests to choose from.
Wear Something Stylish That Leaves Room for Seconds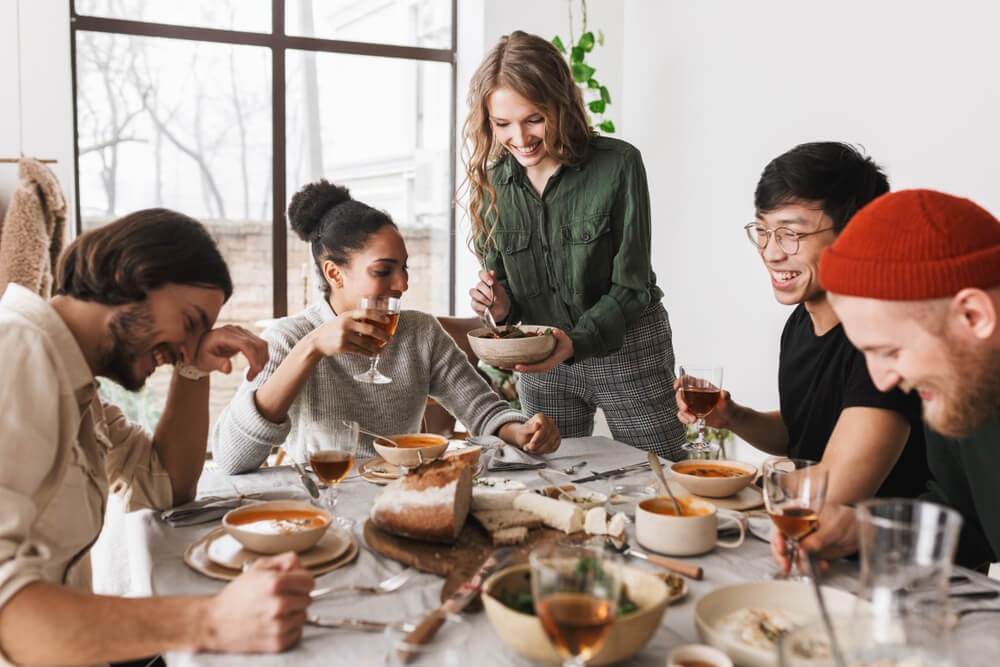 As the host on Friendsgiving, you probably want to look your best for your guests. However, if you're going to be cooking, serving, and (most importantly) eating all evening, you should probably wear something comfortable! Thankfully, you don't have to choose between style and comfort. These holiday outfit ideas are perfect for a cozy Thanksgiving with your friend group!

We hope these Friendsgiving ideas help you make this holiday one to remember! If you're looking for a sweet way to show your loved ones how thankful you are to have them in your life, check out the unique personalized gifts in our shop!