15 Magical Things to Do This Fall If You Love Autumn Leaves
If you've been counting down the days to the season change all summer, you're probably thrilled that the wait is almost over! Soon we'll be enjoying chilly weather, cozy blankets, and, of course, colorful autumn leaves. Ready to make the most of your favorite time of year? Check out these fun, seasonal activities you can enjoy with your family or on your own!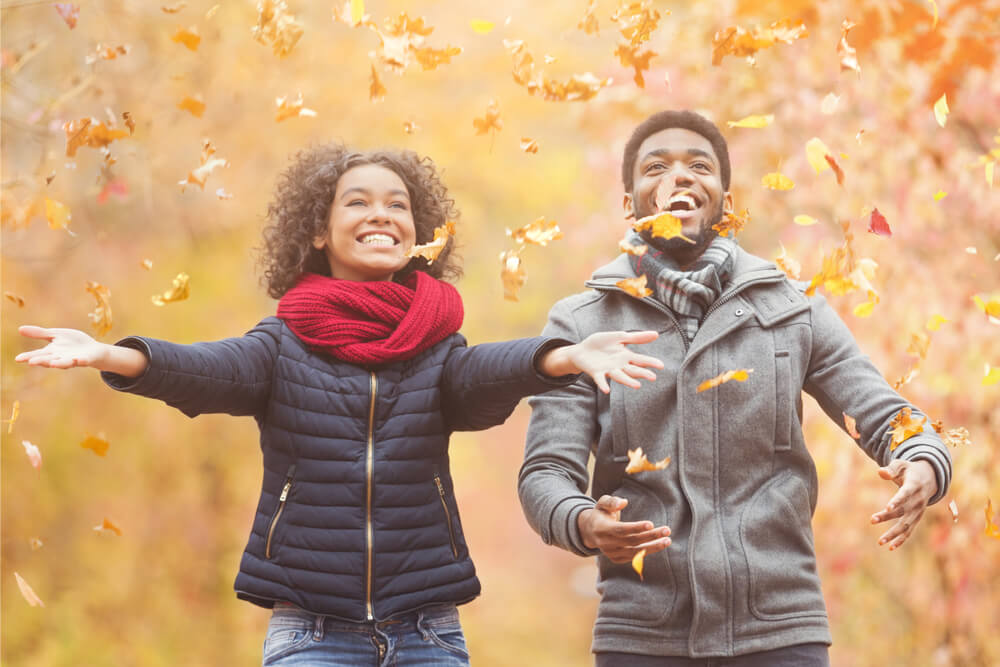 There are plenty of things to love about autumn, but watching the leaves change color to vibrant reds, yellows, and oranges is arguably one of the best parts of the season. Unfortunately, this beautiful natural phenomenon doesn't last very long! If you want to experience cool weather and stunning foliage to the fullest this year, you should plan some activities to get you and your family in the fall spirit.
We're going to share some of our favorite things to do in autumn in this post, including fun outdoor adventures and creative ways to make your house extra cozy. If you missed our last blog post, you can check it out here. Then, continue reading to discover unique, family-friendly fall activities that are sure to make this season magical!
Spruce Up Your Home with Cozy Decor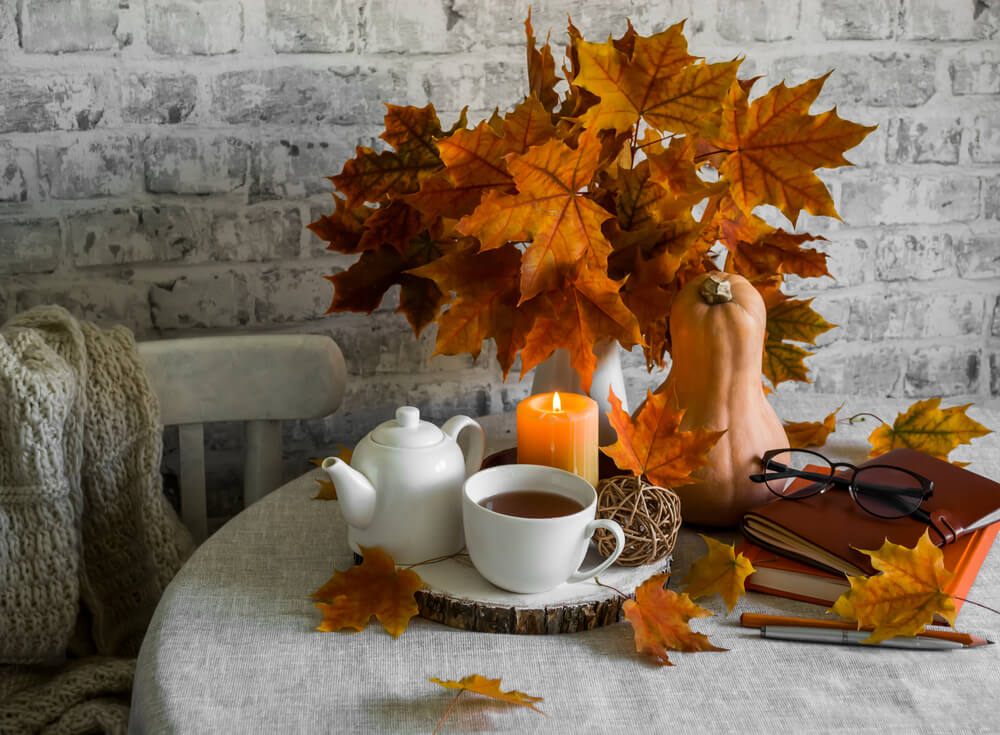 You may be ready for autumn, but is your home? Before you and your family head outdoors to enjoy the changing leaves, make sure to bring some of the vibrant hues of fall into your living space. Take a look at these cute, seasonal decorations that are sure to make it just as bright and colorful indoors as it is outside. Plus, they're surprisingly affordable!
Get Creative with Seasonal DIY Projects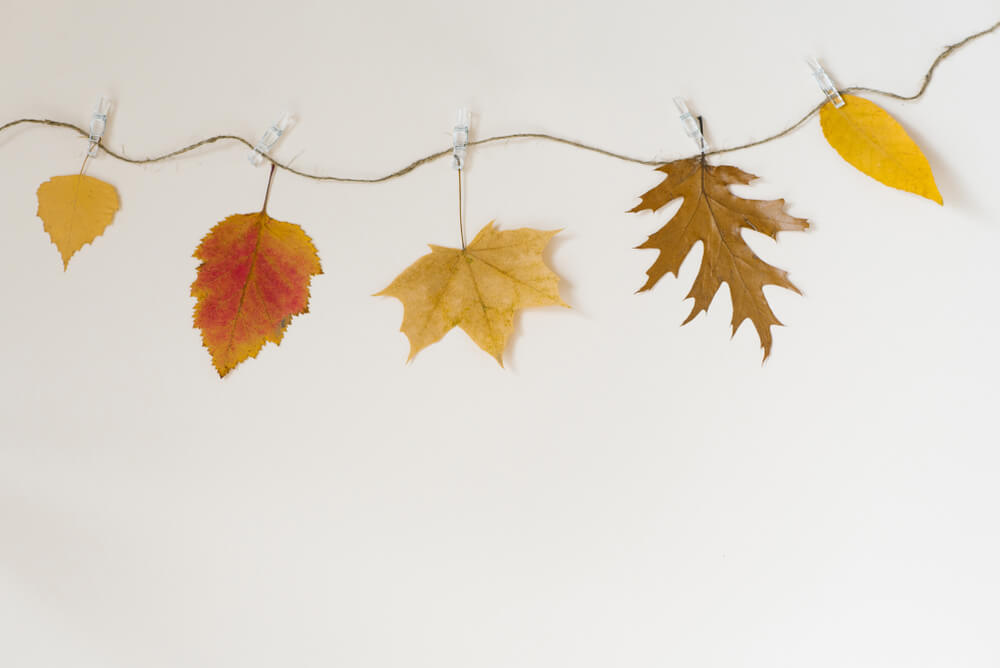 Spending time outside is the best way to get the most out of fall weather, but what can you do when it rains? If you're looking for activities you and your family can enjoy indoors, DIY is always an excellent option. These adorable autumn craft projects are the perfect way to get creative with pumpkins, apples, and, of course, colorful leaves!
Decorate Your Front Porch with an Autumn Wreath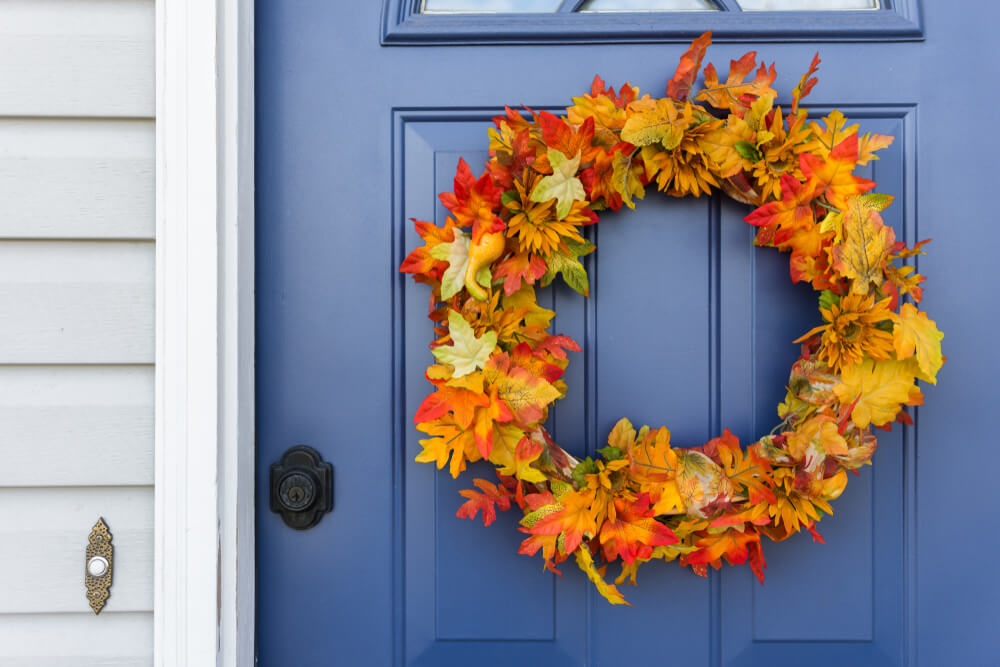 Brett Taylor Photography/Shutterstock
As you get your house ready for autumn, don't forget about your front porch! Decorating the outside of your home with pumpkins and garlands can be one of the most fun and creative outdoor activities of the season. Here's a festive way to welcome both fall and friends into your living space. Hang one of these gorgeous autumnal wreaths on your front door!
Light a Seasonal Scented Candle that Smells Like a Forest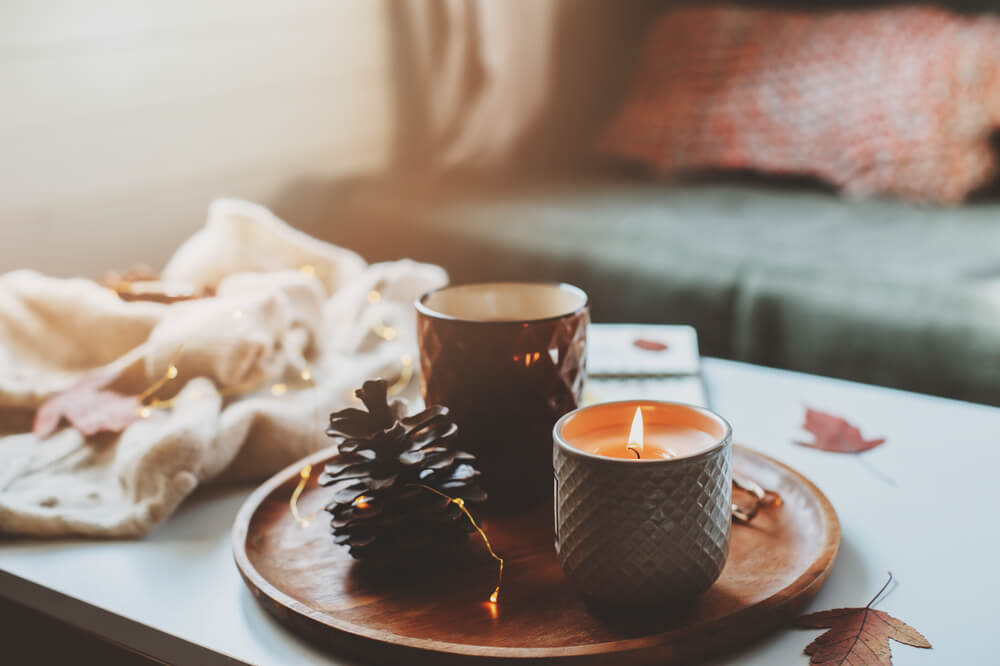 Getting your home fall-ready isn't just about putting up decorations; it's also about creating a warm and cozy atmosphere! If you're still looking for the finishing touch to fill your living space with the magic of autumn, check out these amazing scented candles that pair perfectly with a pumpkin spice latte.
Incorporate the Flavors of Autumn into Your Everyday Meals
Colorful leaves aren't the only fall foliage worth mentioning. There are also plenty of delicious vegetables available during this time of year that can bring the flavors of autumn to your family meals. These colorful salad recipes make the most of seasonal harvests, and they're sure to be a crowd-pleaser at the dinner table after a day full of outdoor activities.
Get Your Fall Wardrobe Ready for Outdoor Fun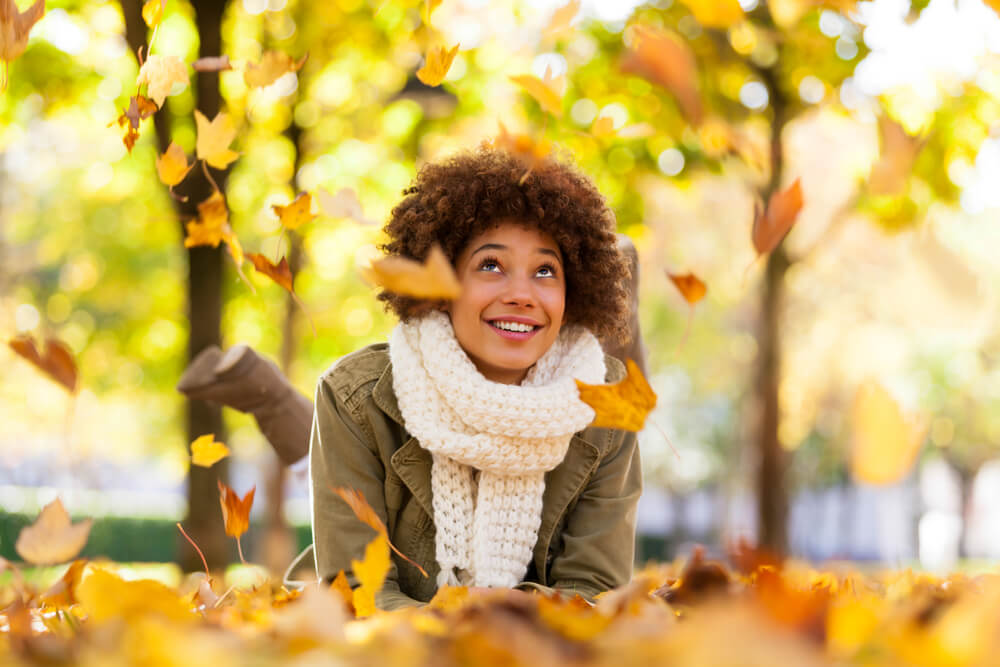 Samuel Borges Photography/Shutterstock
Before you head outside for leaf piles and apple-picking, have you updated your closet for fall weather? Take a look through your seasonal clothing and make sure you have all the gear you need to enjoy outdoor fun with your family this autumn. If your wardrobe is a little light on cozy sweaters and scarves, you might want to make a shopping trip one of the first activities on your agenda!
Visit a Forest or Nature Preserve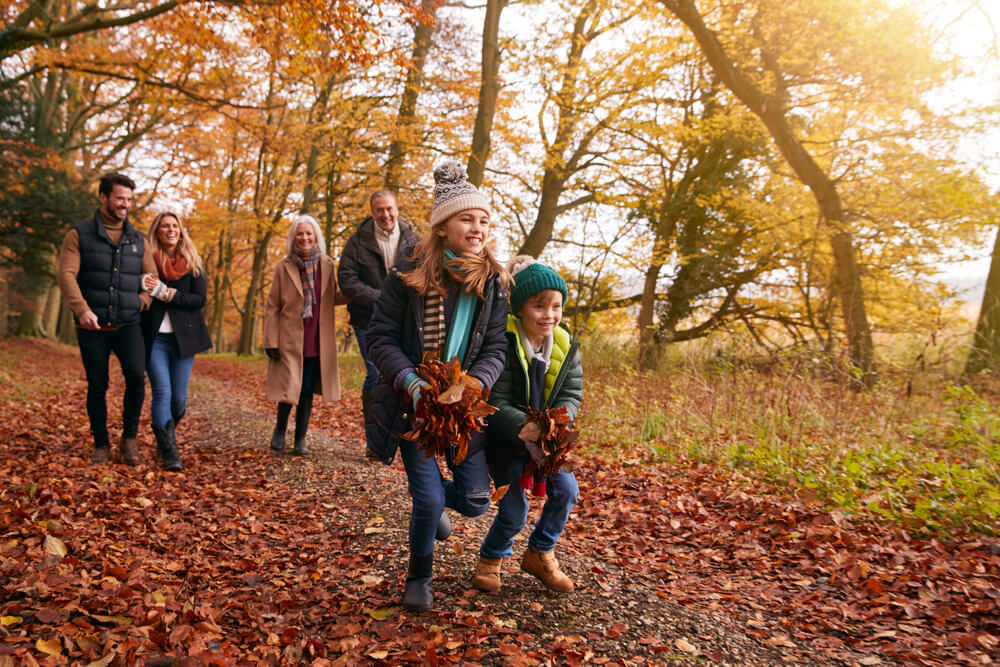 Monkey Business Images/Shutterstock
If you want to experience the brightest, boldest colors autumn has to offer, you'll need to plan some activities that will take you a little further outdoors than your front yard. Take a trip to a local forest or nature preserve and spend the day admiring gorgeous foliage with your family! If you're willing to travel a little to see some of the most vibrant fall leaves in the country, check out these stunning destinations.
Go for a Scenic Autumn Drive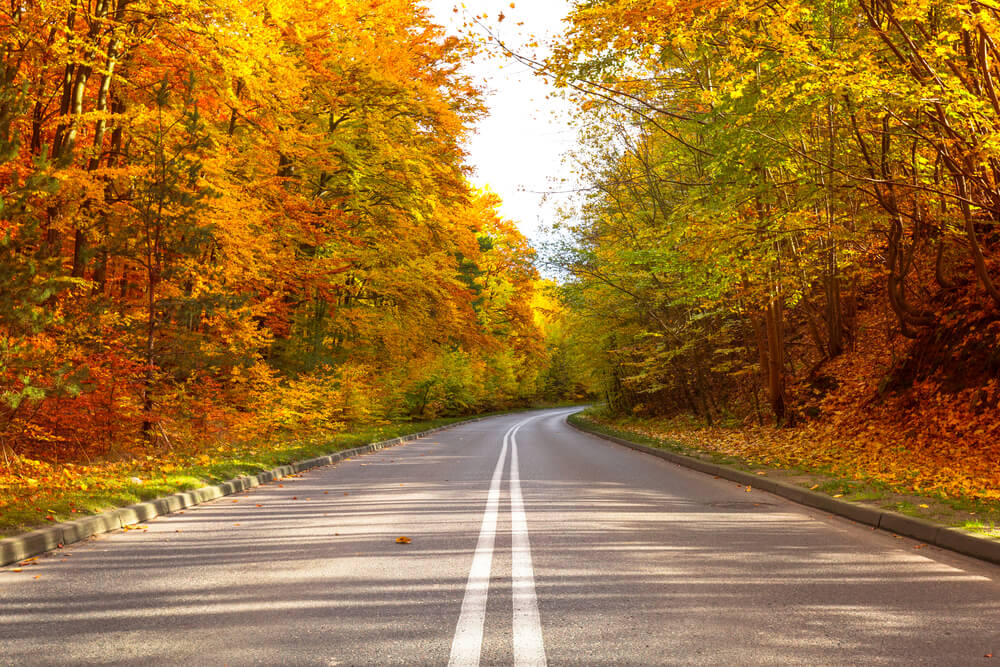 You don't have to go for a walk in the cold to view beautiful autumn leaves. Long drives through breathtaking landscapes can be an excellent way to see spectacular foliage with your family; plus, it's one of the fall activities you can enjoy from the comfort of a heated vehicle! Check out this list of some of the most incredible nature destinations you can experience without getting out of your car.
Go on a Scavenger Hunt for Different Types of Leaves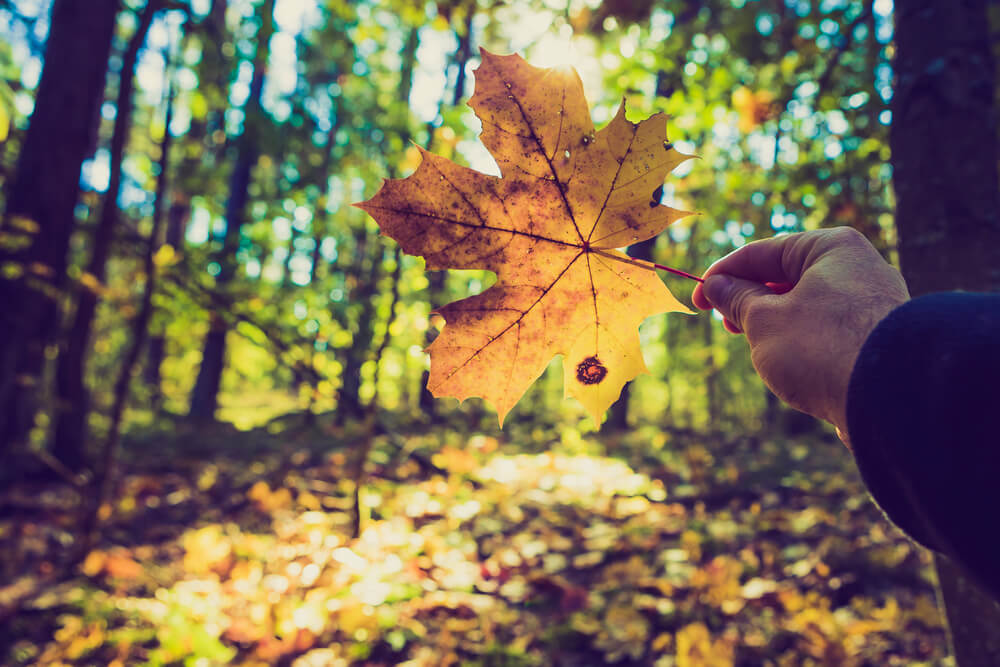 Autumn leaves may be pretty to look at, but you can appreciate them even more when you know how to recognize what type of tree they come from! If you're looking for educational fall activities your family will love, head outdoors with a foliage identification guide and spend the day learning how to classify different leaves.
Try Your Hand at Nature Painting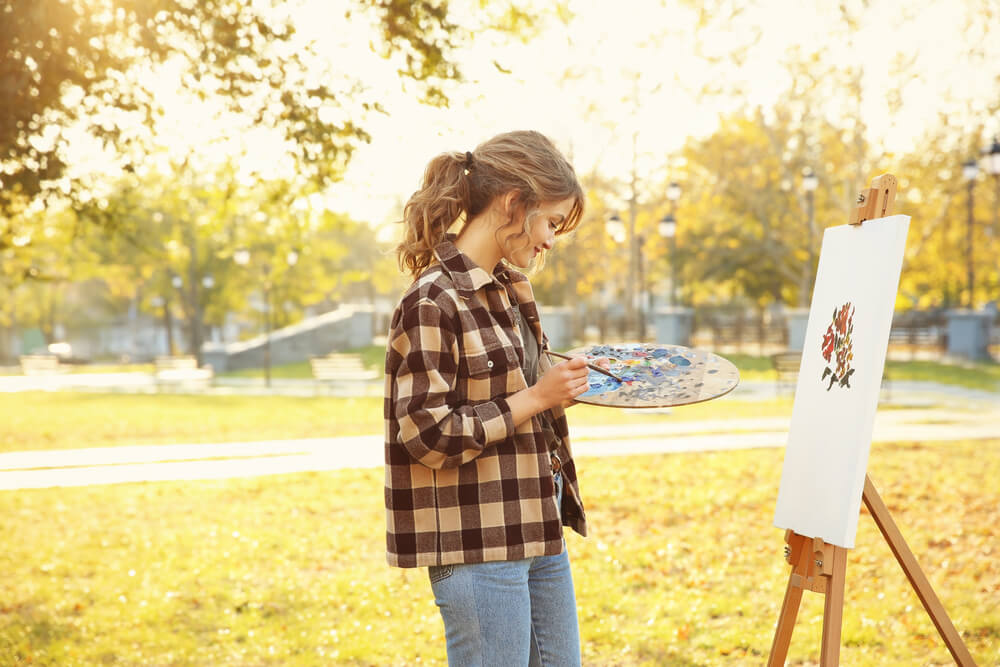 Feeling creative this autumn? Landscape painting is one of the best activities to try when you want to enjoy fall weather while indulging your artistic side. Head out to one of your favorite places to view colorful foliage and paint what you see! Check out these excellent plein air painting kits that are sure to help you create a masterpiece.
Take a Woodsy Camping Trip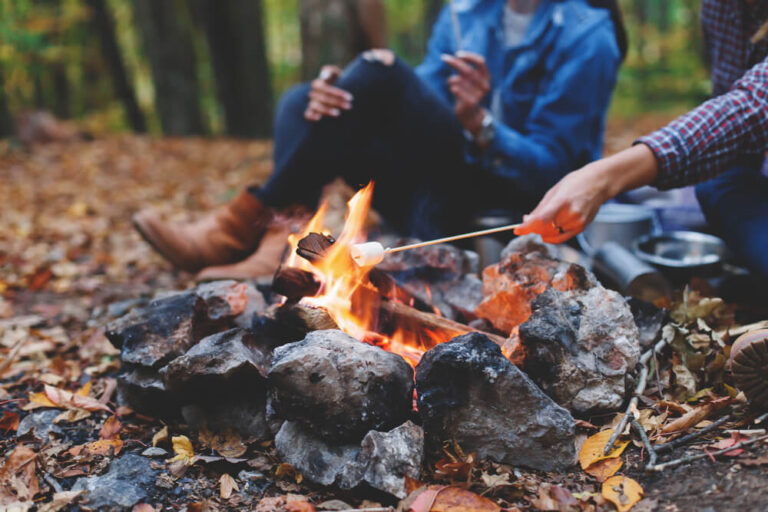 Nesolenaya Alexandra/Shutterstock
There's almost no better way to enjoy fall weather and changing leaves than by camping out in the woods! If you're feeling intrepid this autumn, take your family on an unforgettable trip to a scenic campsite where you can experience stunning foliage to the fullest. Be prepared to pitch a tent, build a fire, and participate in other outdoor activities that allow you to get closer to nature!
Plan a Fall Family Vacation
Impact Photography/Shutterstock
Winter will be here before you know it, so now would be a great time to plan a short vacation to take advantage of the mild weather! While choosing your destination, bear in mind that some areas have more scenic views of colorful autumn leaves than others. If you're looking for unique places to go with your family this fall, check out this guide to East Coast rentals that come with incredible backdrops for seasonal activities.
Don't Let Fallen Leaves Go to Waste
Monkey Business Images/Shutterstock
Sure, changing leaves are beautiful when they're still attached to the tree, but cleaning them up off your lawn isn't one of fall's most enjoyable activities. Instead of raking them up and throwing them away, why not use them to the benefit of your garden? Take a look at this article to find some creative ways to utilize autumn leaves.
Take Plenty of Photos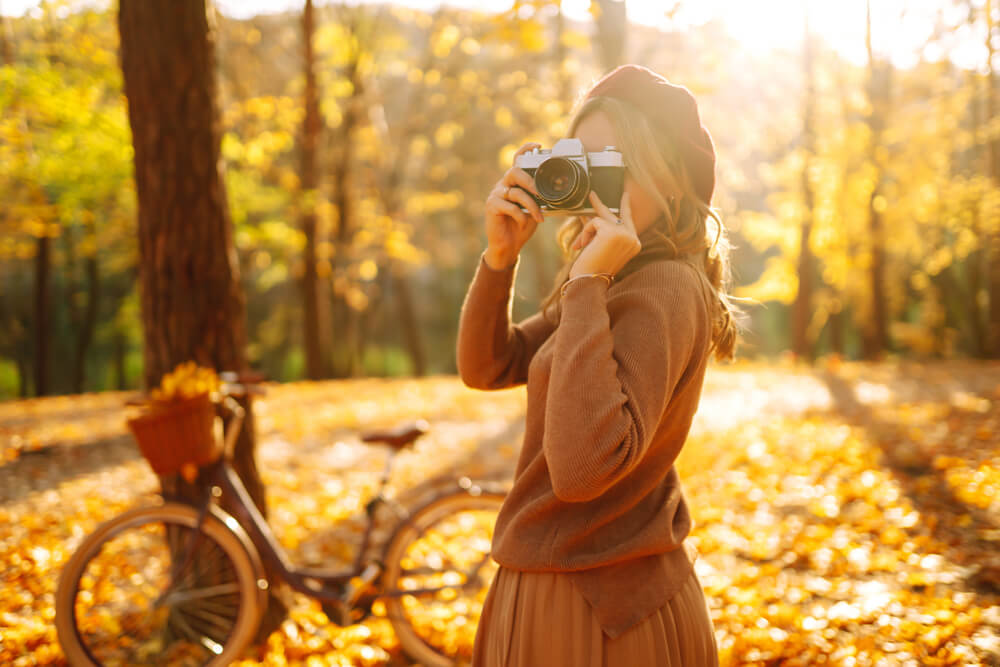 Are you ready to start making some incredible memories with your family this fall? Don't forget to bring a camera to all your outings and activities. There are sure to be plenty of beautiful moments you'll want to capture this autumn, and you never know when the perfect photo opportunity will present itself!
Create an Autumn Scrapbook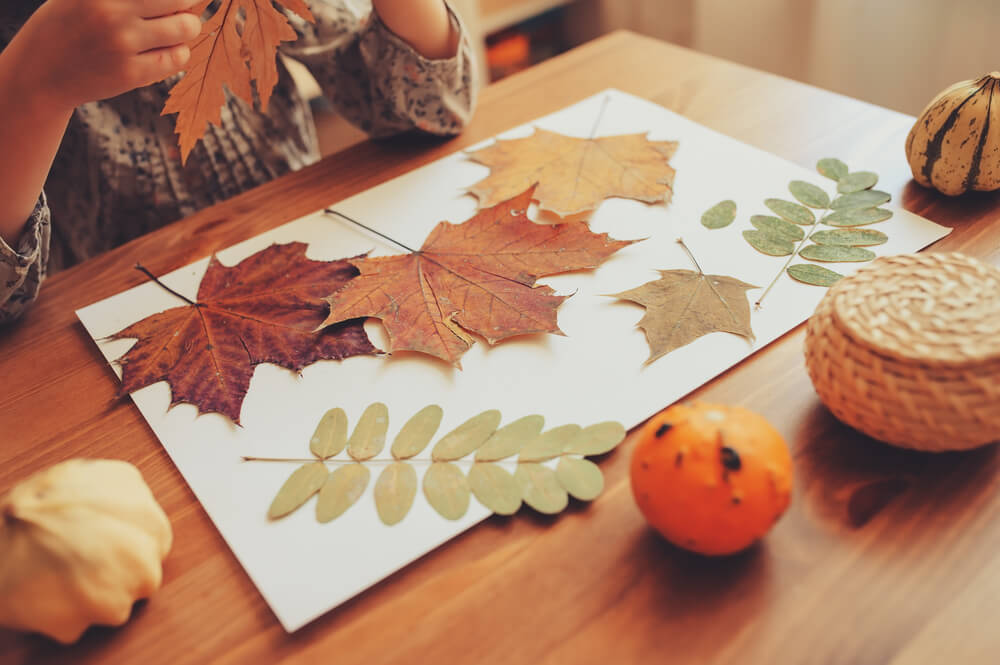 As you collect pictures, fallen leaves, and other sweet tokens from your favorite autumn activities, you'll need a way to preserve them. Scrapbooking is a creative way to organize your most treasured keepsakes so that you and your family can look back on them again and again! It's also a fun, cozy craft to occupy a fall afternoon. Get started with one of these excellent scrapbooks!
We hope these family-friendly seasonal activities inspire you to plan the best fall ever! If you're looking for more exceptional ideas to make this autumn unforgettable, stay tuned for more posts on our blog.
Need a better way to display your best family photos from this fall? Check out our shop to browse gorgeous 3D Engraved Photo Crystals you can customize with your favorite pictures!