About 3D Crystals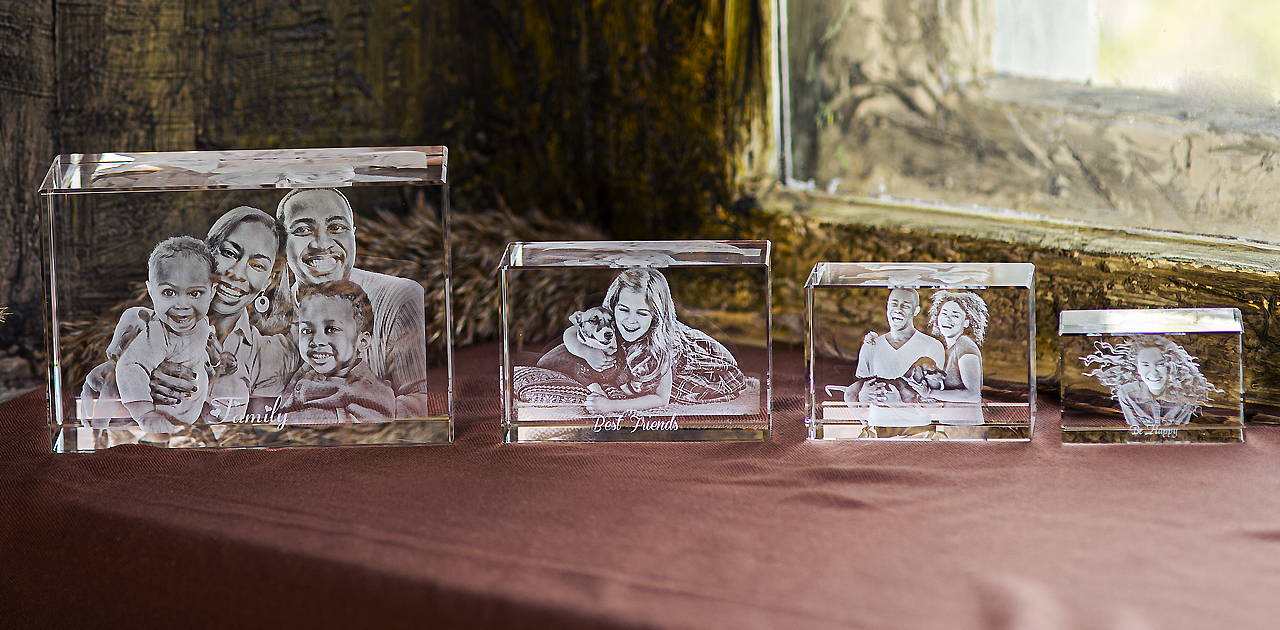 The Mesmerizing Effect of 3D Crystal Images
A luxurious black gift box arrives in the mail. You open it and find a flawlessly cut crystal nestled in the satin lining. It catches the light and sparkles brilliantly.
But what's this? Beneath the surface lies a lifelike image of someone you love. It's your mother, beaming with pride just like she did at your graduation. It's your best friend, raising a glass at your farewell party. It's your beloved family dog, wagging his tail, happy to see you.
The image is otherworldly, its precise detail and depth making it appear almost real. Is this magic? A trick of the mind?
It's neither. This is a Personalized Photo Crystal from ArtPix 3D.
3D Conversion Brings Your Memories to Life
How do we create these stunning 3D images? It all begins when you upload a photo to our website. Our talented team of designers will prepare it for the etching process with state-of-the-art conversion software that transforms your 2D picture into a 3D model.
Next, we'll reproduce your image inside one of our high-grade, optically clear crystal products using the latest laser engraving technology. The light points in your 3D model will become the coordinates for your custom engraving. Our lasers are non-invasive, so we're able to focus their beams onto precisely plotted points within your crystal without leaving any marks on its surface.
The resulting 3D photo crystal is a unique work of art designed to last for over a lifetime. When you view it from the front, you'll see your loved ones and pets depicted with incredible realism. Turn it around, and they'll come to life, appearing to follow you with their gaze from every angle.
Shop 3D Crystal Gifts from ArtPix 3D
Once you've seen your memories brought to life in a dazzling, optically clear crystal, you'll want to share this experience with everyone you know. Our custom keepsakes make excellent gifts for graduations, birthdays, anniversaries, or just letting someone know you care.
Available in a variety of sizes and distinctive shapes, our products are designed to enhance the unique beauty of your favorite photos. For more casual occasions, we also carry a range of crystal jewelry and accessories that can be personalized with a meaningful image.
Placing an order on our website couldn't be easier! Simply upload your photo, then use our online tools to customize your item by adjusting your image, adding text, and choosing a light base. You can even enhance your photo for maximum clarity with ArtPix HD absolutely free!
We deliver our products in stylish gift boxes protected by plenty of bubble wrap and a sturdy shipping container to absorb the bumps and jostling it might encounter in travel.
Ready to get started? Visit our shop here.